Indonesia's President Orders Temporary Suspension of Football Matches After Deadly Stampede
Indonesian President Joko Widodo has ordered the temporary suspension of local football matches and urged a safety review in the aftermath of a deadly stampede in East Java province on Saturday.
Widodo called on the youth and sports minister, the local football association chief, and the national police chief to "thoroughly investigate" how the matches were carried out and the safety measures involved.
He ordered that all local football matches be temporarily suspended "until evaluation and security improvements are made."
"I regret that this tragedy occurred and I hope this is the last tragedy of football in the country. There should not be another humanitarian tragedy like this in the future," Widodo said in a televised address, local media reported.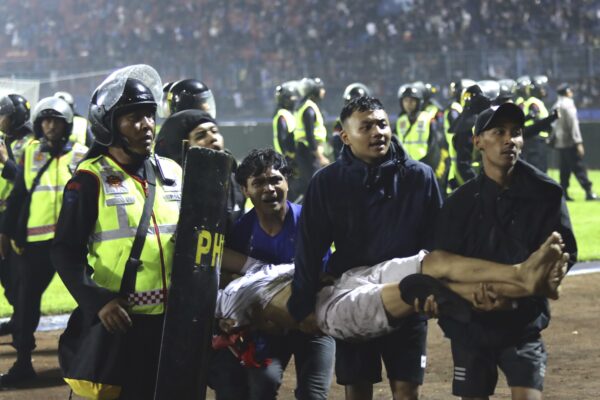 A riot erupted at the Kanjuruhan stadium in Malang regency after Arema FC, the home team, lost 3-2 to Persebaya Surabaya—a rival team it had defeated for 23 years.
East Java police chief Nico Afinta said that Arema supporters invaded the field and attacked players and team officials. Police then used tear gas to disperse crowds, triggering panic and a stampede as many tried to exit the stadium.
Police said that at least 125 people were killed and more than 180 others were injured. Many of the victims were trampled and suffocated to death.
"At first, they were informed of 129 dead victims. However, the latest data based on checking and verification with the Health Office is 125 because there were names [which] were recorded twice," police chief Listyo Sigit Prabowo said.
The Indonesian government has pledged to provide free medical treatment to all of the victims.
No Warning Before Tear Gas
An Arema supporter named Joko, who was present at the scene, said that people scrambled for an exit after police fired tear gas in the stadium. Joko decided to return to the stadium to help his friend who had fainted.
"I saw corpses around the stairs, the atmosphere inside [the stadium] was chaotic," he told local media. "The smoke was like fog, it hurts the eyes, we can't even breathe, all because of the tear gas fired by the police."
Police said that they used tear gas to prevent angry supporters from attacking players and police officers, even though the International Football Federation (FIFA) has banned using "firearms or crowd control gas" in stadiums.
Usman Hamid, executive director of Amnesty International Indonesia, called for an "independent investigation" into the use of tear gas at the stadium and demanded that those who violated the rules be tried in open court.
"This loss of life cannot go unanswered. The police themselves have stated that the deaths occurred after police use of tear gas on the crowd resulted in a stampede at the stadium exits," Usman said in a statement.
"Tear gas should only be used to disperse crowds when widespread violence has occurred and when other methods have failed. People must be warned that tear gas will be used and allowed to disperse," he added.