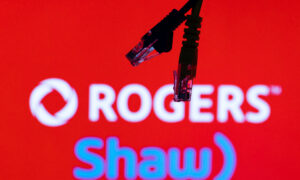 Industry Minister François-Philippe Champagne has approved Rogers Communications Inc.'s $26 billion buyout of Shaw Communications Inc. with a number of conditions.
Champagne's approval of the buyout on March 31 ends the process of the Rogers-Shaw deal moving through various regulatory hurdles after it was initially announced over two years ago.
Champagne told reporters in Ottawa that he has approved the transfer of Shaw's Freedom Mobile wireless licences to Videotron—owned by the Montreal-based telecommunications company Quebecor Inc.—which clears the way for the Rogers-Shaw deal to be completed.
Champagne says the deal comes with 21 provisions from the federal government that both Rogers and Videotron will be required to meet under threat of hefty penalties.
"These conditions and enforceable commitments should not be taken lightly," he said, adding that Videotron will be required to pay up to $200 million in penalties if it breaches any of the commitments, and Rogers will have to pay up to $1 billion.
Under the conditions, Rogers must establish a second headquarters based out of Calgary and also create 3,000 new jobs in Western Canada, both of which it must maintain it for at least 10 years.
The telecom giant will also be required to spend over $5 billion expanding its 5G network coverage across the country along with bringing in "additional network services," and it also must make a $1 billion investment to "connect rural, remote, and indigenous communities."
Competition
For its own part in the agreement, Videotron must offer telecom plans that are on average 20 percent lower than its competitors and it also must spend $150 million over the next two years to upgrade Freedom Mobile's network.
The company will also be restricted from transferring any Freedom Mobile licences for 10 years.
Champagne said he will be monitoring both Rogers and Videotron "like a hawk" to ensure that they keep their commitments in the deal.
"If Canadians do not begin to see clear and meaningful reduction in prices within a reasonable amount of time, I will have no choice but to seek further legislative and regulatory powers to drive down prices in Canada," he said.
"I would not mess with the regulator," he added, referring to himself. "It's never a good thing. Not only do you have a contract with conditions, but on top of that, just think about the penalty."
Critics of the Rogers-Shaw merger deal have voiced concern that it will harm competition in Canada's telecom sector and drive cellphone-plan prices up even higher without improving overall network service.
On these grounds, the federal Competition Bureau made an effort to quash the Rogers-Shaw deal in January, but it was rejected by the Federal Court of Appeal.
Addressing telecom competition in Canada, Champagne told reporters on March 31 that the sector is now "at a crossroads" that will provide an opportunity for a "real fourth national player" to emerge in the sector.
Current telecom providers in Canada compete against the "big three" companies currently dominating the sector, which are Rogers, Bell, and Telus.
"Today we have a unique opportunity and I would say even a historic opportunity to see a real fourth national player emerge, and most importantly, compete in a way that will drive down prices for Canadians," Champagne said.
The Canadian Press contributed to this report.