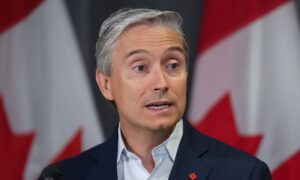 Canada's minister of industry met with executives from pharmaceutical giant Pfizer in New York City on March 2 to discuss expanding collaboration, his office says.
"They discussed how we can collaborat[e] in multiple areas to expand our growing biomanufacturing and life sciences sector," said Laurie B. Bouchard, spokesperson to Minister François-Philippe Champagne.
"New areas of innovation that the company is engaged in was also one of the topic[s] discussed, and also how their emerging technologies could support the efforts of our Biomanufacturing and Life Sciences Strategy."
Bouchard did not indicate who Champagne met with.
The minister released a video of himself on Twitter where he is seen entering Pfizer's building as well as greeting and meeting with personnel.
"As one of the world's leading biopharma companies, Pfizer develops and delivers life saving medicines and vaccines," he wrote in his post.
"Today in NYC, I met with senior execs at the company's new global HQ. We discussed how we can continue to work together to ensure the health of [Canadians]."
Pfizer did not return questions about who Champagne met with and for what purpose.
Biomanufacturing Sector
The federal government is on a current drive to bolster its biomanufacturing sector, which it says has been in decline over the past 40 years.
Champagne and Health Minister Jean-Yves Duclos announced on March 2 a $10 million investment in research hubs in Canadian universities to accelerate the domestic production of vaccines and therapeutics.
Ottawa launched its Biomanufacturing and Life Sciences Strategy in July 2021 with $2.2 billion allocated in Budget 2021.
The month after it announced a memorandum of understanding with Pfizer competitor Moderna to build an mRNA facility in Canada.
Both companies use mRNA technology in their COVID-19 injections. These are not traditional vaccines, as they instruct the cells to generate the SARS-CoV-2 virus' spike protein to provoke an immune response.
Concerns around COVID-19 were heightened at the time of the announcement and the Liberal government a few weeks later imposed vaccination mandates on the public service and transportation sector to increase uptake.
Mandates were lifted in June 2022 and vaccination rates did not sustain. Health Canada says that 80 percent of the population has received at least one dose and 22 percent received a booster in the last six months.
The reduction of interest in COVID-19 vaccination has led to changes in the market.
Vaccine maker Medicago based in Quebec, in which the federal government said it would invest up to $173 million, announced in February it was closing its operations citing "significant changes to the COVID-19 vaccine landscape."
Other COVID-19 vaccine maker Novavax is also under the weather, with its shares once trading at close to US$320 in 2021 currently being below US$7.00.
Moderna shares have also dropped significantly from their height of over US$450 in 2021 to US$141.22 currently.
Shares from Pfizer, which has a more comprehensive business model, have remained more stable.
A senior Pfizer employee was shown on Jan. 25 on hidden camera footage from Project Veritas saying that the company is involved in mutating the virus causing COVID-19 to pre-emptively create new vaccines.
"Because some of the times there are mutations that pop up that we are not prepared for. Like with Delta and Omicron. And things like that. Who knows? Either way, it's going to be a cash cow. COVID is going to be a cash cow for us for a while going forward," said Jordon Trishton Walker, Pfizer Director of Research and Development, Strategic Operations.
Pfizer did not dispute the affiliation of Walker but denied his allegation in a statement published two days after.
"In the ongoing development of the Pfizer-BioNTech COVID-19 vaccine, Pfizer has not conducted gain of function or directed evolution research," the company said. "Working with collaborators, we have conducted research where the original SARS-CoV-2 virus has been used to express the spike protein from new variants of concern."
Contracts Concerns
Pharmaceutical companies made hundreds of millions of dollars with advanced purchase contracts from the federal government.
Details of the contracts, which provide protective clauses to the vaccine manufacturers, are kept from the public.
The auditor general's (AG) report on vaccine procurement says that Ottawa spent approximately $5 billion on vaccines for the 169 million doses paid for between December 2020 and May 2022.
The AG said in December the surplus of doses led to wastage and that 32.5 million doses in inventory could go to waste if not quickly donated.
The report also says that Canada paid approximately $30 per dose, which is much higher than what other countries paid for.
Opposition MPs have requested to see the vaccine contracts, but the Liberal government says that they have to sign non-disclosure agreements to do so.
Liberal MP Anthony Housefather, who serves as parliamentary secretary to the Minister of Public Services and Procurement, says the contracts are sensitive since they were signed by the federal government under unfavourable conditions.
He said the companies we were exposed to "way higher liability" because the vaccines they would rush to market would not be tested normally.
"So that's why these companies said, 'If I'm going to deliver you this product that I haven't tested in my normal way, I want to have different conditions,'" Housefather told the House of Commons public accounts committee on Feb. 16.