Jason Greenblatt, Abraham Accords Architect, Talks Middle East Peace, a Nuclear Iran, and Misconceptions About the Israeli-Arab Conflict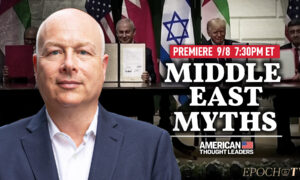 This episode will premiere on Thursday, Sept. 8, at 7:30 p.m. ET.
From Our Sponsor: Why Now Is the Time to Buy Gold & Silver with Goldco. Call 855-973-0470 for your FREE Wealth Protection Kit Today!
"You cannot imagine the pressure that came to bear on President Trump to not follow through with the decision," recalls Jason Greenblatt, special envoy to the Middle East under Trump.
Greenblatt reflects on Trump's historic decision to move Israel's U.S. Embassy to Jerusalem. "He was getting calls from world leaders all over, essentially saying, 'Blood is going to be spilled in the streets. You're going to cause World War III. You're going to alienate all of our allies.' And what happened? Nothing."
Greenblatt, author of "In the Path of Abraham," was one of the chief architects of the Abraham Accords, a set of historic normalization agreements between Israel and a number of its Arab neighbors.
"Before the Abraham Accords were signed, you had former Secretary of State John Kerry actually say that peace between Israel and its Arab neighbors will never happen unless you solve the Israeli-Palestinian conflict," he says.
Greenblatt discusses the breadth of what the Abraham Accords accomplished, the threat of a nuclear Iran, and some of the many myths surrounding the Arab-Israeli conflict.
Subscribe to the American Thought Leaders newsletter so you never miss an episode.
* Click the "Save" button below the video to access it later on "My List."
Follow EpochTV on social media:
Twitter: https://twitter.com/EpochTVus
Rumble: https://rumble.com/c/EpochTV
Truth Social: https://truthsocial.com/@EpochTV
Gettr: https://gettr.com/user/epochtv
Facebook: https://www.facebook.com/EpochTVus
Gab: https://gab.com/EpochTV
Telegram: https://t.me/EpochTV