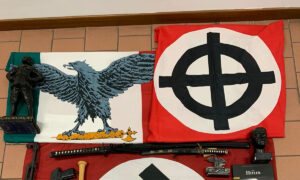 Jewish organisations have applauded a planned nationwide ban on Nazi symbols following a rise in their use amongst far-right groups.
New federal laws will see people displaying Nazi insignia face up to a year in jail.
Selling Nazi memorabilia will also be an offence, and sales banned in retail and online stores.
The Nazi salute will not be banned because it would fall under the jurisdiction of states and territories.
Anti-Defamation Commission chair Dvir Abramovich said the laws followed years of campaigning and were needed more than ever after recent neo-Nazi demonstrations outside Victoria's parliament.
"The cancer of white supremacism is spreading like wildfire throughout this country, and … these are domestic terrorists in waiting," he said.
"These are ticking bombs.
"Over the last few years, we've seen a concerted and deliberate effort by white supremacists, by neo-Nazis, by right-wing extremists, to take their online activity in the real world."
The legislation, which will ban the Nazi Hakenkreuz and Schutzstaffel symbols, is slated to be introduced to parliament on Wednesday.
The laws would complement state and territory laws, Attorney-General Mark Dreyfus said.
"There's no place in Australia for those who are seeking to glorify hatred and violence and anti-Semitism," he told reporters in Melbourne on Thursday.
"There has been a rise in this kind of activity, it's been identified by … the boss of ASIO in each of his annual state-of-the-nation security reports for the last three years."
Displaying symbols for religious, educational or artistic purposes will be among a range of exclusions from the ban.
It will not affect the use of the swastika for people observing Hinduism, Buddhism and Jainism.
Dreyfus said the ban on public display would send a clear message to those still using the Nazi symbols.
"We fought the Second World War against the horrors of Nazism … the kind of conduct we've seen over the last little while would have been unthinkable in the 1950s or the 1960s or 1970s in Australia," he said.
"It's something that we are seeing a little bit of a rise in activity from this small number of Australians—let's call it out.
"And this law is about, in part, calling it out."
The executive director of the Australia Israel and Jewish Affairs Council, Colin Rubenstein, said the bill was a welcome development.
"Nazi symbols are universally recognised messages of hate and genocide," Rubenstein said.
"They are used to frighten, intimidate and hurt their targets.
"The bill is particularly welcome at a time when anti-Semitism is rising globally and, frighteningly, moving into mainstream discourse in numerous different ways."
But the Executive Council of Australian Jewry is concerned neo-Nazi groups will get around the legislation by using other symbols, including the death's head and sun wheel.
"We have urged the government to review the legislation periodically so that if our concerns are borne out, the prohibitions may in due course be extended to the display of other Nazi symbols," co-CEO Peter Wertheim said.