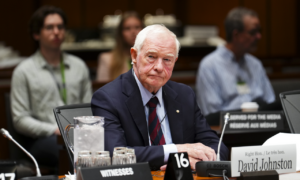 David Johnston, the special rapporteur on foreign election interference, has cut ties with a crisis communications firm his office had previously contracted for public relations work, according to a report.
The Office of the Independent Special Rapporteur (ISR) said it stopped working with the Ottawa-based public relations firm Navigator shortly after Johnston learned that it had also worked with Independent MP Han Dong earlier this year, The Globe and Mail reports.
Dong resigned from the federal Liberal caucus in March shortly after Global News reported that he had allegedly told a Chinese diplomat in 2021 that Beijing should hold off on releasing Canadian prisoners Michael Kovrig and Michael Spavor, who were detained for over two years following Ottawa's arrest in 2018 of Huawei executive Meng Wanzhou on a U.S. extradition request over fraud.
Dong denied the allegation and launched a $15 million defamation lawsuit against Global News in April.
Johnston told a House of Commons committee on June 6 that the allegation against Dong was "false" because it was based on "misinterpreted" intelligence information.
The Globe recently learned that Dong had contracted the crisis-communications firm Navigator earlier this year, which led the ISR to break ties with the firm.
"The first Mr. Johnston heard of any relationship between Navigator and Han Dong was when he received [The Globe's] questions," said ISR spokesperson Valérie Gervais, according to the Globe. "Mr. Johnston has decided, under the circumstances, it would be best to end their engagement with the ISR team."
The Epoch Times contacted Johnston's office for further details, but didn't hear back before press time.
'Makes no Sense'
CTV News reported on June 2  that Johnston had hired Navigator, causing a significant stir among federal opposition parties, all of which had already unanimously called on the former governor general to step down from his role as special rapporteur.
"It's another example of how this process is flawed and makes no sense," Conservative Party Leader Pierre Poilievre told reporters on June 5.
"We shouldn't have to hire a rapporteur who is a cottage neighbour [of Prime Minister Justin Trudeau], a family friend, ski buddy, and a member of the Trudeau Foundation, and then have him try to reverse the reputational damage that that obvious conflict has caused by paying expensive consultants."
The ISR defended its contracting of Navigator, saying it wasn't involved in Johnston's investigation of foreign interference or the "development of his conclusions."
"[Navigator] has not been privy to any classified materials," the ISR told CTV News.
Andrew Chen and Noé Chartier contributed to this report.