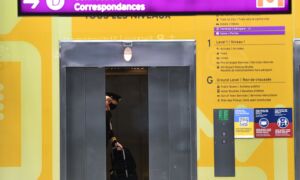 The federal government has no intention of bringing back regular in-person medical exams for pilots, a move decried by an air safety advocacy group.
"It's long past time to return to full, annual in-person medicals," says pilot Greg Hill from the organization Free to Fly.
Currently Transport Canada requires a pilot holding a medical certificate to undergo, in normal circumstances, an in-person examination for renewal only if his previous two appointments were completed remotely.
This means a commercial pilot could be three years without being examined directly by a physician.
In response to the pandemic, Transport Canada created an exemption for pilots to be medically screened via telemedicine.
The order creating the exemption states this was done "after having taken into account that the exemption is in the public interest and is not likely to adversely affect aviation safety or security."
The need for physical distancing due to COVID-19 is stated as the reason behind the exemption, to "reduce the unnecessary exposure of healthy medical certificate holders to potentially hazardous healthcare settings."
Hill says this doesn't make sense as most restrictions have been lifted and people are now going about their normal lives.
"Canadians across the country can, as they should, go to crowded concerts, restaurants, and travel across the nation with 2-300 other people unmasked in packed airplanes. We welcome this change," he says.
"So why can a Canadian airline pilot not see his doctor one on one in a pristine office?"
Transport Canada told The Epoch Times there's currently no plans on lifting the pandemic-era exemption, which was set to expire in early March.
"Transport Canada intends to continue the use of Telemedicine on an extended trial basis while it determines how Telemedicine may be integrated as a permanent feature in the Aviation Medical Certification Program," says department spokesman Hicham Ayoun.
He says this was endorsed by the International Civil Aviation Organization (ICAO), but the aviation body was using the pandemic as a rationale.
The ICAO was contacted for comment but no response was received prior to publication.
Ayoun said the exemption initiative has been "safe and successful" and "well-received" by the aviation community, notably by pilots working in remote locations.
The Epoch Times reached out to Air Canada and WestJet but didn't immediately hear back.
"In all circumstances, Transport Canada will bring that same rigor and vigilance to the medical certificate application review process without compromising safety," says Ayoun.
Concerns South of the Border
A loosening of a screening standard for pilots in the U.S. also raised concerns lately.
The Federal Aviation Administration (FAA) altered the electrocardiogram (EKG) test limit.
The test measures the time required (PR interval) for an electrical impulse to travel from one part of the heart to the other, and a slower speed could be indicative of heart tissue damage.
The new standard is now 50 percent longer than the previous limit.
"The FAA's decision to lower the EKG standards is the latest assault on aviation safety from an organization that has pledged to put aviation safety ahead of all else," Stephen Carbone, a former FAA safety inspector, said in a previous interview.
Carbone has issues with the change in standards and the safety of the COVID-19 injections.
The FAA told The Epoch Times its decision to change the ECG standard was based on "data and science" and that there is "no evidence of aircraft accidents or incapacitations caused by pilots suffering medical complications associated with COVID-19 vaccines."
Hill says he's spent many hours on the phone with pilots suffering from different levels of vaccine injuries from all different airlines, but none are willing to come forward fearing repercussions.
On the FAA decision, Hill said he was less familiar with that environment, but that the loosening of any safety standard should raise concerns.
"As an airline pilot back flying, I'm more concerned domestically where Transport Canada is still content to forego their own standards for annual EKGs and annual in person medicals."
Transport Canada did not reply to a question about its medical standards for pilots regarding EKG testing.
"We also need to create a permissive environment for Canadian flight crews to address some of their post-vaccination concerns with things like D-dimer and troponin tests, or better yet, cardio MRIs. We're seeing elevated instances of post-vaccination cardiovascular issues and that is no different in aviation," says Hill.
The tests suggested could help detect issues such as heart inflammation (myocarditis/pericarditis), which Canadian health authorities say can be caused in rare circumstances by COVID-19 vaccination. The condition can be fatal.
Free to Fly sent letters last summer to Transport Minister Omar Alghabra, asking for data on COVID-19 vaccination injuries in pilots.
Alghabra's reply in August did not address the specific questions from Free to Fly and said the COVID-19 injections are "safe and effective.
"Transport Canada does not restrict or limit aviators from taking vaccines that have been approved by Health Canada," wrote Alghabra.
Janice Hisle contributed to this report.