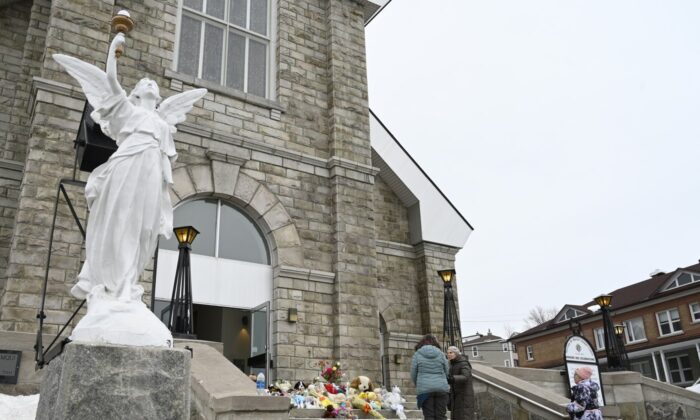 People gather on the steps of the church near a memorial for the victims in Amqui, Que., on March 14, 2023. (The Canadian Press/Jacques Boissinot)
Quebec Premier François Legault will today visit the eastern Quebec town where a pickup truck plowed into groups of pedestrians, killing two.
Legault will be joined by opposition leaders and other politicians in Amqui, the small community in the lower St-Lawrence region, where he will meet with local residents and hold a news conference.
Two men were killed and nine people were injured Monday when a man drove a truck down one of the eastern Quebec town's main streets, allegedly hitting several different groups of pedestrians in what police have described as an intentional act.
Thirty-eight-year-old Steeve Gagnon is facing two counts of dangerous driving causing death, and prosecutors have said more charges will follow.
Legault said earlier this week that his visit to the shaken community is meant as a comforting gesture.
A candlelight vigil is also planned in front of the Saint-Benoît-Joseph-Labre church at 7 p.m.