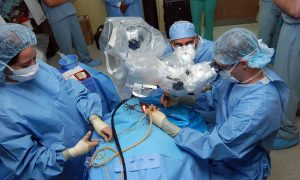 Boosting productivity in service industries such as education and health will be central to shoring up Australia's future prosperity.
In a major, five-yearly report, the Productivity Commission offers a long list of recommendations to get sluggish productivity growth moving.
This includes a future-income-based university funding model and phasing out fuel taxes in favour of a nationwide road user charge suitable for electric cars and busting congestion.
The report outlines the challenges of eking out productivity gains in services industries, such as education, health, hospitality, retail and finance, that employ 90 percent of Australians.
The commission says productivity improvement in services is hard because these industries are labour-intensive, often delivered in-person and not suitable for mass production.
Productivity Commission chair Michael Brennan said economies around the world were struggling to lift productivity in the services sectors.
"There is no easy answer, but we need to address this challenge to secure Australia's future prosperity," Brennan said.
Productivity is growing at its slowest pace in 60 years and if Australia can catch up to Belgium—a comparable nation in GDP per person—Australians could be working about four hours less a week without losing income.
The commission says improving education through lifelong learning, better use of technology and university changes is key to building an adaptive, skilled workforce.
The reviewers float the idea of a new funding model in which student contributions to tertiary education fees are based on the average expected earnings of that field of study.
The reviewers also push for free online lectures at universities to improve the transparency of teaching and a greater role for the government in mid-career training.
Reforms to Australia's migration system also featured, with migration touted as a way to inject new ideas and information into the economy rather than a way to plug skills gaps.
The commission suggests moving away from occupation-based lists towards wage thresholds as the basis for employer-sponsored migration.
Several recommendations are levelled at workplace relations laws, including for gig workers.
The commission recommends reforms for these workers that preserve their working conditions while keeping the efficiency benefits of easily matching services workers to jobs.
Adapting to climate change and achieving net zero at least cost has also been flagged as a high-level objective.
The commission backs the safeguard mechanism as the best way to drive down emissions and recommends progressively tightening it to capture more than just the big emitters.
Treasurer Jim Chalmers said not all of the report's recommendations would be acted on, but many aligned with his government's values and priorities.
"I want people to understand the things that we are interested in progressing, and the things that we aren't interested in progressing, but I also wanted everybody else to grapple with the kinds of choices that the government is facing," Chalmers said.
Business Council chief Jennifer Westacott said it was vital the report didn't sit on a shelf gathering dust like the previous one.
"There are two ingredients to fixing Australia's productivity problem, government action and private investment," Westacott said.
"To deliver for Australians we have to get the settings right to unleash private sector balance sheets, attract new investment and drive innovation."
Australian Council of Trade Unions secretary Sally McManus criticised several of the recommendations, including encouraging schools to outsource teaching jobs to online teachers should the school lack specialist expertise and "making a mockery of addressing the current teacher shortage crisis."
"This latest report proposes taking most rights of working Australians, leaving them with only seven that then could be taken away in bargaining," McManus said.