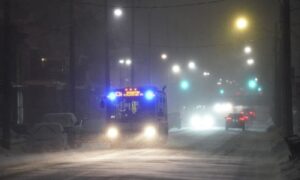 A fierce winter storm has dumped heavy snow across southern Ontario, where strong winds, thunder and lightning were also reported.
Environment Canada meteorologist Haizhen Sun says between 22 and 30 centimetres of snow fell on the Greater Toronto Area as of 6 a.m. today, prompting the city of Toronto to declare a "major snowstorm condition" that bars residents from parking on designated routes for the next three days.
Ottawa logged 14 centimetres of snow and Hamilton reported 15 centimetres.
Environment Canada lifted snowfall and winter storm warnings for several hard-hit regions early Saturday morning, and the snow is expected to taper off by the afternoon.
Dozens of flights in and out of Toronto's Pearson International Airport were delayed or cancelled late Friday and early Saturday, with airlines urging customers to check their flight status before leaving for airports in Toronto, Ottawa and Montreal.
Tori Grass, a spokesperson for the Greater Toronto Airports Authority, says conditions at Pearson airport were improving, but the airport received a large amount of snow in a short period of time.
"The snow is also very heavy and high winds made snow clearing difficult throughout the night, but the pace of plane movements is picking up," Grass said, describing proactive cancellations from some of the country's airlines as "helpful."
Grass said further flight delays and cancellations are possible.
"We are also seeing staffing impacts for airport agencies, airlines and other partners as road conditions affect workers' ability to reach Toronto Pearson," Grass said. "Passengers may experience delays and longer than usual lines, but we expect the situation to continually improve throughout the day."
Toronto's declaration of a major snowstorm condition is intended to help the city with road clearing after a significant snowfall accumulates in a relatively short time.
The city issued a statement Saturday saying it made the declaration in anticipation of snow removal efforts that will get underway on Monday.
"This declaration may be cancelled sooner than 72 hours or it may be extended depending on how much snow needs to be removed," the statement says. "At this time, the city anticipates it will likely be extended."
The city said most of the designated snow routes are in the downtown core and include all streetcar routes.
Sun said the moisture-laden storm originated in Texas and developed very quickly.
"The storm . . . (is) pulling out quickly," Sun said in an interview.
Snowfall and winter storm warnings remain in effect for some parts of the province, including Ottawa, Kingston and other parts of eastern Ontario.
Environment Canada is urging people to use caution when going out, saying highways, roads, walkways and parking lots could be difficult to navigate.
Driving could also prove difficult, with slush or snow-covered roads creating treacherous conditions, and blowing snow possibly reducing visibility without warning.
Both Toronto Hydro and Hydro One reported only scattered outages.