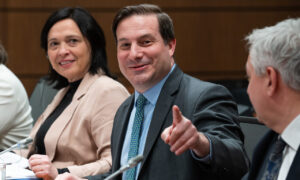 Law enforcement agencies across the country are grappling with the rise of 3D-printed untraceable firearms used by criminals and Public Safety Minister Marco Mendicino said on March 15 his government has acted and will do more to counter the threat.
"There is no doubt that 3D guns is a growing phenomenon within our criminal justice system," he said during a health funding announcement in North York, Ont.
Mendicino said this is part of the reason why additional resources were provided to the Canadian Border Services Agency in the last two years to be able to interdict these weapons.
But the weapons parts controlled under legislation can be produced at home with inexpensive computer and 3D printing equipment and then complemented with parts available on the open market to constitute functional firearms.
Those make the perfect weapons for criminals since they are untraceable.
The minister recognized that more needs to be done and said that explains why it's important to pass the Liberals' gun control legislation Bill C-21.
The Trudeau government inadvertently slowed the bill's progress through Parliament by adding two amendments to the bill last November that caused an uproar amongst opposition parties, hunters, and gun enthusiasts.
In early February, the Liberals pulled the amendments which would have added hundreds of rifles to the prohibited list and created an evergreen definition of what the Liberals believe constitutes an "assault-style" firearm.
One of the amendments also referred to measures to control ghost guns. Opposition parties support legislating on the matter.
Liberal MP Taleeb Noormohamed brought the motion to withdraw the amendments at a Commons public safety committee meeting on Feb. 3, but said work on ghost guns should still be pursued.
"I really do hope we can find ways through our conversations over the next little while to bring that back," he said.
"We had unanimous support for it. That is an important piece for us to get right. Law enforcement demands it of us, requires it of us, in order to keep Canadians safe."
Mendicino was asked on March 15 whether the rise of ghost guns could be linked to the Liberals handgun freeze imposed through regulations since last October. Bill C-21 will enshrine the freeze into law.
The minister didn't directly answer, calling the challenges posed by 3D ghost guns "significant," and said he expects Bill C-21 to tackle the issue.
"I will work with all political parties on that committee and in the House of Commons and senators to receive any constructive amendments that they may have to improve and strengthen that bill, including with regards to 3D ghost guns," he said.
"We've got a track record of listening very carefully to the advice that we get from our colleagues right across the entire political continuum."
CBC reported in January that based on its research police across the country seized 100 3-D printed guns in 2022, an important rise over previous years.
Calgary police seized 17 3D-printed guns in 2022, compared to one for both 2020 and 2021, reported the Calgary Herald in January.