Mexican Army Seizes 1.5 Tons of Meth, 328 Pounds of Apparent Fentanyl in Fruit Juice Truck
The Mexican army on Aug. 11 seized almost 1.5 tons of meth and 328 pounds of apparent powdered fentanyl in the northern border state of Sonora, officials said on Thursday.
Soldiers, who were acting on a tip, also found 816,486 pills apparently containing fentanyl that had been packed inside 46 drums aboard the offending truck.
The Defense Department said it had obtained information that a truck carrying powdered fruit juice concentrates to the border city of Tijuana was also carrying drugs.
The source of the information was not confirmed, however. Mexican cartels frequently pass on information to officials regarding drug shipments owned by rival gangs.
Fentanyl is a potent synthetic opioid that was first approved by the Food and Drug Administration (FDA) to treat acute pain. It is 50 times stronger than heroin and 100 times more potent than morphine. As little as two milligrams of fentanyl can be lethal. It is also extremely addictive.
Mexican cartels are known to import fentanyl from China before pressing it into pills or mixing it into other counterfeit pills made to look like Xanax, Adderall, or Oxycodone, and selling them to unaware buyers who then accidentally overdose.
Officials have said that synthetic opioids like fentanyl are contributing to a major increase in overdose deaths in the United States.
Earlier this year in April, the U.S. Drug Enforcement Administration (DEA) said mass overdose events involving fentanyl were increasing across the country and killing Americans at an "unprecedented" rate.
'Drug Traffickers Driving Addiction'
Mass overdose events are described by the DEA as those involving three or more overdoses occurring within the same location and within a close period of time.
"Already this year, numerous mass-overdose events have resulted in dozens of overdoses and deaths," DEA administrator Anne Milgram said in April. "Drug traffickers are driving addiction, and increasing their profits, by mixing fentanyl with other illicit drugs. Tragically, many overdose victims have no idea they are ingesting deadly fentanyl until it's too late."
While the Biden administration has vowed to tackle the fentanyl overdose epidemic in the United States through various methods, such as disrupting drug traffickers' supply chains and expanding treatment programs, some lawmakers have blamed President Biden's failed immigration policies for increased sales of fentanyl across the country.
Back in March, Rep. Matt Rosendale (R-Mont.) pointed to lax immigration policies, which have seen an unchecked influx of illegal immigrants arriving into the United States, for the increase of fentanyl sales in the state.
"Biden and the Democrats' open-border policies have allowed for fentanyl to flow across our borders and into our neighborhoods," Rosendale wrote on Twitter in March. "Montana experienced a major increase in fentanyl deaths as a consequence. Our communities are less safe because of Biden's failed leadership."
In July, Florida Attorney General Ashley Moody sent a letter urging President Biden to declare fentanyl a "weapon of mass destruction" due to the number of Americans who are dying due to the destruction caused by the drug.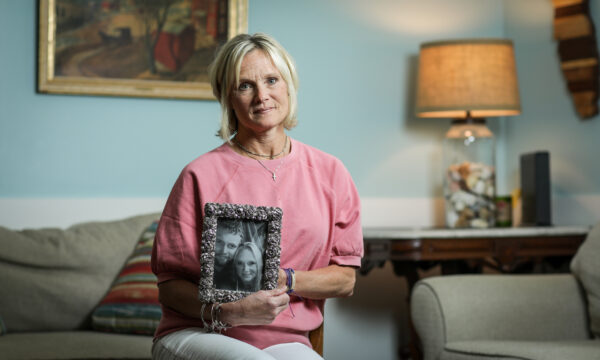 Provisional data released in July by the Centers for Disease Control and Prevention (CDC) showed that more than 100,000 people in the United States died from drug overdoses in the 12-month period ending Feb 2022.
Fentanyl is now the No. 1 cause of death for Americans aged 18 to 45, according to Families Against Fentanyl, and is responsible for more deaths than suicide, car accidents, or gun violence in 2021.
The Associated Press contributed to this report.