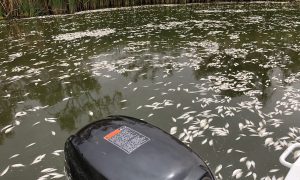 Fish deaths in the lower Darling-Baaka attributed to low oxygen levels.
Millions of dead fish have been found floating on the surface of the water at Menindee in New South Wales (NSW), Australia, with environmental authorities attributing the cause of death to depleted oxygen levels in the water.
The mass fish deaths were reported to have occurred in the lower Darling-Baaka near the town of Menindee on Friday, according to the NSW Department of Primary Industries (DPI) statement on Facebook.
The DPI said "millions of fish" have been killed, predominantly Bony Herring, and smaller numbers of other large-bodied species such as Murray Cod, Golden Perch, Silver Perch, and Carp.
"This event is ongoing as a heatwave across western NSW continues to put further stress on a system that has experienced extreme conditions from wide-scale flooding," the department stated.
The DPI said the fish deaths were caused by hypoxia, or low oxygen levels in the water, which is believed to have occurred after flood waters receded.
"Significant volumes of fish, including Carp and Bony Hearing, nutrients and organic matter from the floodplain are being concentrated back into the river channel," it said.
"The current hot weather in the region is also exacerbating hypoxia, as warmer water holds less oxygen than cold water, and fish have higher oxygen needs at warmer temperatures," the DPI added.
'Unfathomable'
Graeme McCrabb, a resident who spoke to The Guardian, described the magnitude of the fish deaths as "unfathomable".
The decomposing dead fish could render the water unusable for residents, he said.
"The river is just white. I'm looking at probably a kilometer or a kilometer-and-a-half of fish, and they're all dead," McCrabb told the news outlet.
Footage posted to Twitter by SBS showed a boat navigating through a mass of dead fish blanketing the entire surface of the river.
The incident follows fish deaths in the same area in 2018 and 2019, where up to a million fish died from poor water flow, poor water quality, and sudden temperature changes.
Joy Becker, an associate professor at the University of Sydney, said an investigation into the cause of mass fish deaths should be conducted as such events could occur when "the quality of the environment cannot sustain fish life."
"It is important to remember that fish kill events impact not only the large-body fish like the Murray cod and bony bream but also the small-body fish like the gudgeons that are essential to maintaining a healthy aquatic ecosystem," Becker told The Guardian.
Reuters contributed to this report.