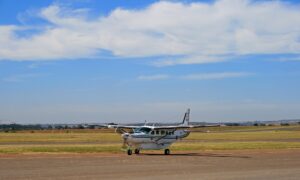 After five days of searching, search and rescue personnel have located the wreckage of a missing Cessna Caravan with two people aboard in remote northwestern Ontario, with both occupants found dead.
Royal Canadian Air Force (RCAF) searchmaster Captain David Baird announced on Twitter on March 4 that the plane had been found by a Civil Air Search and Rescue Association (CASARA) aircraft at about 11:30 a.m. EST that day. The names of the deceased were not identified.
The commercial plane, also called Cessna 208, was initially reported missing on Feb. 28. It left Nakina, about 350 kilometres northeast of Thunder Bay, at around 12:30 p.m. that day and never arrived at its destination at Eabametoong First Nation, also known as Fort Hope.
Joint Rescue Coordination Centre (JRCC) Trenton, a division of the Department of National Defence, began the search with a RCAF aircraft and a civilian aircraft that afternoon. On March 1, the search was upgraded to a major search and rescue operation.
"Unfortunately, when #RCAF SAR Techs arrived on scene, both occupants were found without vital signs. Our thoughts are with family and friends at this time," said JRCC Trenton.
The aircraft was found just south of Chaucer Lake by a CASARA Cessna Skymaster aircraft. RCAF search and rescue officials were deployed minutes later from an RCAF CH-146 Griffon helicopter.
According to JRCC Trenton, the Ontario Provincial Police (OPP) and Transport Canada have been advised of the discovery and the Transportation Safety Board will be launching an investigation into the cause of the crash.
In his news release, Baird said this was not the outcome searchers had hoped for.
He thanked local communities and those who provided search tips, adding that members of the RCAF, Ontario Ministry of Natural Resources, Canadian Coast Guard, OPP, Webequie First Nation, Canadian Rangers, and CASARA volunteers had expended "tireless efforts" to find the plane.
At the height of the search, five RCAF aircraft, two CASARA aircraft flown by volunteers, and three helicopters were searching for the missing plane, along with 60 searchers from these organizations.