More Than 100 Killed and Wounded in Mosque Explosion in Afghanistan: UN
Dozens of people were killed during a suicide bombing attack at an Afghan mosque in the city of Kunduz on Friday, according to the United Nations and the Taliban terrorist group.
"Initial information indicates more than 100 people killed and injured in a suicide blast inside the mosque," the United Nations' mission to Afghanistan wrote on Twitter.
Earlier, Taliban spokesman Zabihullah Mujahid wrote that the explosion occurred at a Shiite mosque.
"A number of our compatriots were martyred and wounded," he wrote in a Twitter post. "The [Taliban] arrived at the scene with a special unit and started investigating."
Dost Mohammad Obaida, the deputy police chief for Kunduz, told Al Jazeera that at least 100 died or were wounded in the blast, adding that the "majority of them have been killed." Obaida added that he would "assure our Shia brothers that the Taliban are prepared to ensure their safety."
If confirmed, a death toll of dozens would be the highest since U.S. and NATO forces left Afghanistan at the end of August and the Taliban took control of the country. The Taliban have been targeted in a series of deadly attacks by rival ISIS terrorist group, including shooting ambushes and an explosion at a mosque in the capital of Kabul.
A Doctors Without Borders official who wished not to be named told Al Jazeera that about 90 wounded people are being treated by the group.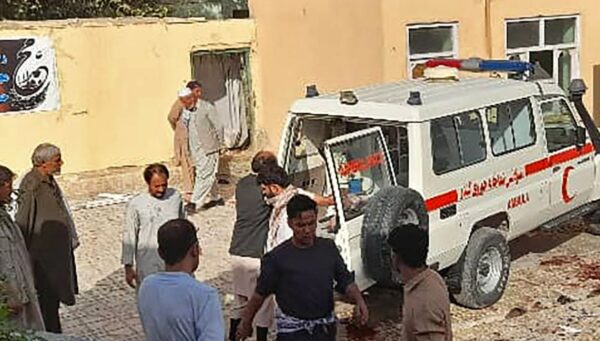 "We are still receiving people," the official said.
Photos and video from the scene showed rescuers carrying a body wrapped in a blanket from the mosque to an ambulance. The stairs at the entrance of the mosque were covered in blood. Debris from the blast covered the floor and the mosque's lofty ceiling was charred black.
ISIS has declared war on Afghanistan's minority Shiites and has taken responsibility for some of the worst attacks targeting the community, including attacks on their mosques in Kabul and the western province of Herat.
Previously, an ISIS affiliate claimed responsibility for an Aug. 26 terrorist bombing that killed 13 U.S. military personnel and about 169 Afghans near the Kabul airport during the final days of the rushed and chaotic evacuation after the Americans withdrew from the country.
Rep. Ken Calvert (R-Calif.) earlier this week said that the suicide bomber responsible for the August attack was "a known ISIS-K terrorist that was previously detained at the Bagram prison and was released along with thousands of others just days before the deadly attack."
"President Biden's disastrous handling of our withdrawal from Afghanistan led to a series of events that culminated with the tragic loss of life on Aug. 26 outside of the Kabul airport," he added. "Thirteen Americans, including one of my constituents, were killed because of the poor judgment and execution of our troop withdrawal."
The Associated Press contributed to this report.