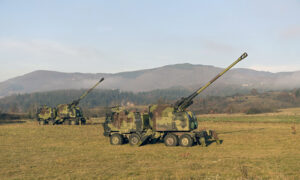 NATO has warned Kosovo against taking "destabilizing steps" after clashes erupted between Kosovan police and ethnic Serbs who tried to block newly-elected Albanian mayors from entering municipal buildings.
"Pristina must de-escalate [and] not take unilateral, destabilizing steps," NATO chief Jens Stoltenberg stated on Twitter on Sunday, referring to the capital city of Kosovo.
Stoltenberg said that he had spoken with European Union (EU) foreign policy chief Josep Borrell about the situation in Kosovo and urged Kosovo and Serbia to engage in the EU-led dialogue to achieve peace.
"NATO will continue to ensure a safe [and] secure environment," he added.
Footage circulating on social media earlier today showed NATO-led troops present near municipal buildings in northern Kosovo. This came days after Serbian President Aleksandar Vucic criticized NATO for failing to act sooner.
Former U.S. Special Presidential Envoy for Serbia and Kosovo Peace Negotiations under the Trump administrationRichard Grennell posted on Twitter, "NATO troops have taken over buildings in Kosovo. American troops and American money. We went from peace and progress under Trump to chaos and troop occupation under Biden. Biden is so weak."
BREAKING: NATO troops have taken over buildings in Kosovo. American troops and American money.

We went from peace and progress under Trump to chaos and troop occupation under Biden.

Biden is so weak. https://t.co/1D6dtjslp8

— Richard Grenell (@RichardGrenell) May 29, 2023
Dozens of people were injured, including police officers, and several cars were set ablaze in the clashes. Kosovo police fired tear gas to disperse the crowd and let the new officials of Zvecan, Leposavic, and Zubin into the municipal buildings.
The clashes erupted as ethnic Serbs, a majority in northern Kosovo, boycotted last month's snap elections in which only ethnic Albanian or other smaller minority representatives were elected.
Vucic has ordered an "urgent" movement of troops closer to the border and put the combat readiness of Serbian armed forces at the "highest state of alert" to protect ethnic Serbs.
"I will fight for every second of peace to last longer, but I say that the first attack on the Serbs in Kosovo and Metohija—Serbia will not sit idly by. Do you want to expel the Serbs? You will not expel them," he said, according to local media reports.
Kosovo's Prime Minister Albin Kurti defended his authorities' actions on the grounds that democratically elected officials have the right to assume office without threats or intimidation.
"It is also the right of citizens to be served by those elected officials. Participation—not violent obstruction—is the proper way to express political views in a democracy," Kurti stated on Twitter.
US Condemns Kosovo's Actions
However, U.S. Secretary of State Antony Blinken expressed strong condemnation of the Kosovo government's use of force to access municipal buildings and urged Kurti to reverse this course of action.
"These actions have sharply and unnecessarily escalated tensions, undermining our efforts to help normalize relations between Kosovo and Serbia and will have consequences for our bilateral relations with Kosovo," Blinken said in a statement on Friday.
"We call on Prime Minister Albin Kurti to reverse course and on all sides to refrain from any further actions that will inflame tensions and promote conflict," he added.
The embassies of France, Germany, Italy, the United Kingdom, and the United States, as well as the EU in Kosovo, issued a joint statement on Sunday calling on Kosovan authorities to show restraint.
"We strongly caution all parties against other threats or actions which could impact on a safe and secure environment, including freedom of movement, and that could inflame tensions or promote conflict," the statement reads.
— Ambassador Christopher R. Hill (@usambserbia) May 26, 2023
Vucic has previously warned that his nation would respond to violence against Serbs, and has stepped up combat readiness several times during moments of tension with Kosovo.
But any attempt by Serbia to send its troops over the border would mean a clash with NATO troops stationed there.
The United States has been Kosovo's main supporter politically, militarily, and financially since it declared independence from Serbia in 2008.
Serbs in Kosovo's northern region do not accept the 2008 declaration of independence from Serbia, almost a decade after the end of a war there, and still see Belgrade as their capital.
The Associated Press and Reuters contributed to this report.