NATO's Chief Says Russia 'Not Withdrawing, but Regrouping'
Russian forces aren't withdrawing from certain areas in Ukraine, but they're instead regrouping, said NATO Secretary-General Jens Stoltenberg on Thursday.
Earlier this week, Russian Defense Ministry officials said its forces would scale down its military around the capital Kyiv and Chernihiv to the north, which was met by skepticism by U.S. and Ukrainian officials. And last week, Moscow said it would focus its operation in the Donbass, located in eastern Ukraine.
"According to our intelligence, Russian units are not withdrawing but repositioning. Russia is trying to regroup, resupply and reinforce its offensive in the Donbass region," Stoltenberg told reporters in Belgium. "At the same time, Russia maintains pressure on Kyiv and other cities. So we can expect additional offensive actions, bringing even more suffering," he said.
The NATO chief echoed comments made by U.S. officials that Russia is not negotiating with Kyiv's government in good faith and are using the talks to merely regroup. Stoltenberg affirmed that NATO members will continue to provide Ukraine's military with weaponry and equipment.
"We have no real change in the real Russian objective… they continue to pursue a military outcome," Stoltenberg said.
On Tuesday, Russian Deputy Defense Minister Alexander Fomin announced that amid Ukraine–Russia peace talks in Istanbul, the Russian military would scale down its presence near Kyiv. The Russian negotiators also claimed an "increase [in] mutual trust" has been developed after Ukraine said it would not try to join NATO.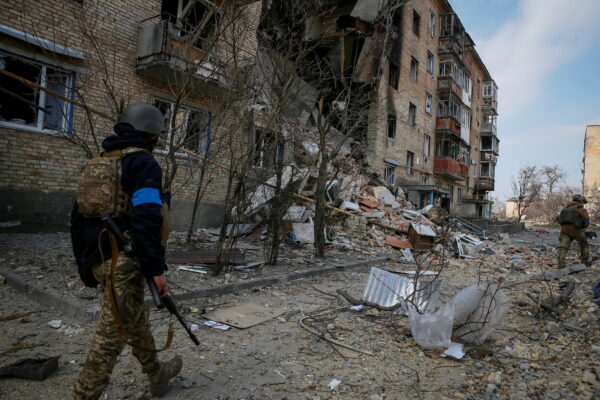 Reporters in Kyiv said that heavy fighting occurred on the outskirts of Kyiv on Thursday while Ukrainian President Volodymyr Zelenskyy said in the morning that Ukraine is seeing "a buildup of Russian forces for new strikes on the Donbass, and we are preparing for that."
Britain's Defense Ministry also claimed there were "significant Russian shelling and missile strikes" around Chernihiv. The area's governor, Viacheslav Chaus, said Russian troops were on the move but may not be withdrawing.
Britain's Defense Ministry said in a statement, "Russian forces continue to hold positions to the east and west of Kyiv despite the withdrawal of a limited number of units. Heavy fighting will likely take place in the suburbs of the city in coming days."
Russia's Defense Ministry also reported new strikes on Ukrainian fuel stores late Wednesday, and Ukrainian officials said there were artillery barrages in and around the northeastern city of Kharkiv over the past day.
The Associated Press contributed to this report.