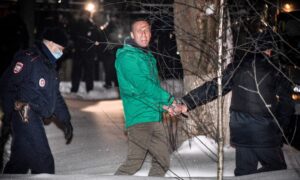 LOS ANGELES—The film "Navalny" about the poisoning that nearly killed Alexei Navalny, Russia's most prominent opposition leader, and his detention upon his 2021 return to Moscow, won the Oscar for best feature documentary on Sunday.
Joining director Daniel Roher on stage, Navalny's wife Yulia Navalnaya said: "My husband is in prison just for telling the truth. My husband is in prison just for defending democracy. Alexei, I am dreaming of the day when you will be free and our country will be free.
"Stay strong my love. Thank you."
The CNN Films/HBO Max documentary follows Navalny as he recovers in Germany from his poisoning in Siberia with a Soviet-era nerve toxin which Western nations said was a Russian state assassination attempt to silence the outspoken critic of President Vladimir Putin. The Kremlin denied involvement.
In the documentary, Navalny works with investigative news outlet Bellingcat and they unmask FSB agents sent to poison Navalny in 2020. Navalny, pretending to be a Russian official, calls one of the agents who describes the poisoning plot.
He decides to return to Russia in January 2021 with Yulia and throngs of supporters await his arrival. He is arrested at the airport and later sentenced to a combined 11.5 years in jail in two separate fraud cases, which he says were trumped up to silence him.
His anti-corruption organization was banned as extremist.
"Alexei, the world has not forgotten your vital message to us all. We cannot be, must not be afraid to oppose dictators and authoritarianism wherever it rears its head," Roher said in accepting the award, with Navalny's wife, daughter, and son behind him.
The daughter, Daria Navalnaya, said on her arrival she was "very happy that the movie is getting the attention that it deserves."
"Don't stop fighting for democracy and freedom around the world and we're going to get my dad out and we're going to keep fighting," she said in an interview.
Navalny, 46, is the highest profile of the few remaining opposition voices in Russia and is serving his sentence in a maximum security penal colony in Russia. Supporters say his health has deteriorated after around a dozen spells in solitary confinement.