New CCP Virus Variant Detected in South Africa Sparks Travel Bans by Israel, UK
A new variant of the CCP virus has been detected in South Africa, its health minister, Joe Phaahla, announced Thursday.
Scientists say the new variant is a concern because it has a high number of mutations and spreads rapidly among young people in Gauteng, the country's most populous province, he said at an online press briefing.
"Over the last four or five days, there has been more of an exponential rise [in new infections]," he said of South Africa's case numbers of the CCP (Chinese Communist Party) virus.
A surge in cases, which appeared to be cluster outbreaks from student gatherings in Pretoria and Tshwane, prompted scientists to study the genomic sequencing and subsequently discover the new variant, Phaahla said.
Scientists in South Africa are now working to determine what percentage of the new cases have been caused by the new variant, identified as B.1.1.529.
10 Confirmed Cases to-Date
To date, 10 cases of the new CCP virus variant have been confirmed by genomic sequencing, with three cases in Botswana, where it was first detected; six cases in South Africa; and one case in Hong Kong, in a traveler from South Africa.
In the past week, daily new cases in South Africa rapidly increased from around over 200 to more than 1,200 on Wednesday. On Thursday, the number almost doubled to 2,465.
The National Institute for Communicable Diseases did not attribute the latest resurgence to the new variant, but some leading local scientists suspect it is the cause.
"Although the data are limited, our experts are working overtime with all the established surveillance systems to understand the new variant and what the potential implications could be," the NICD said in a statement.
In response to news of the variant, Israel and the UK has since enacted travel bans from South Africa, Lesotho, Botswana, Zimbabwe, Mozambique, Namibia, and Eswatini.
'Constellation' of New Mutations
The new variant has a "constellation" of new mutations, said Tulio de Oliveira, from the Network for Genomic Surveillance in South Africa. He added that the high number of mutations is "a concern" as it could make the virus capable of evading immunity.
"This new variant has many, many more mutations," including more than 30 to the spike protein that affects transmissibility, he said. "We can see that the variant is potentially spreading very fast. We do expect to start seeing pressure in the healthcare system in the next few days and weeks."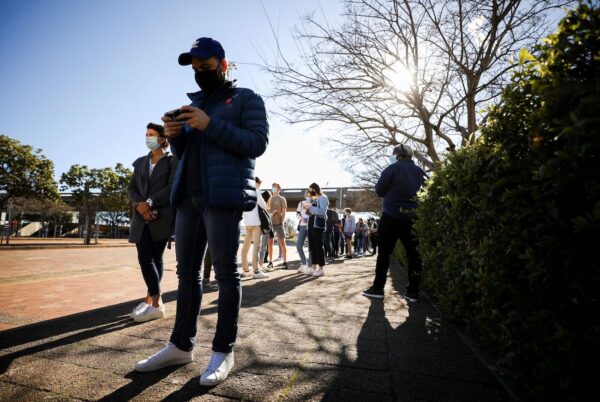 De Oliveira said that a team of scientists from seven South African universities is studying the variant. They have 100 whole genomes of it, he said.
UK Health Secretary Sajid Javid said there were concerns the new variant "may be more transmissible" than the dominant delta strain, and "the vaccines that we currently have may be less effective" against it.
The World Health Organization's technical working group on virus evolution is to meet Friday to discuss the new variant in an urgent sitting requested by South Africa. The group may decide whether to give it a name from the Greek alphabet.
The Associated Press contributed to this report.