New Australian government research has shown that gambling has become very common among the population, renewing concerns about gambling harm amid rising living cost pressures.
According to a report by the Australian Gambling Research Centre, almost three in four Australian adults (73 percent) gambled at least once in the past 12 months, with 38 percent engaged in gambling at least weekly.
Lotteries and scratchies were the top gambling product, with a participation rate of 64 percent, followed by racing at 38 percent, sports betting at 34 percent, and pokies at 33 percent.
On average, Australian adults spent $83 (US$55.2) on sports, $93 on racing, and $109 on other types of products (pokies, casino games, etc.) on a typical gambling day.
It was estimated that the entire population spend around $25 billion on legal forms of gambling every year, which was the largest per capita loss in the world.
The report also revealed that nearly half of those who gambled were at some risk of suffering harm, including mental health issues and unmanageable debt.
Men were found to gamble more frequently, spend more money and be subject to higher risks of harm than women.
Furthermore, young adults were subject to higher gambling risks than other age groups, with 55 percent of females and 71 percent of males aged 18-34 identified as being at risk.
The Prevalence of Gambling Ads and Its Impact
The research found a connection between the country's high gambling participation rate and the pervasiveness of gambling advertising.
Over three-quarters of the study's respondents (78 percent) said they saw or heard sports or race betting advertisements at least once a week in the past year, while two in five (41 percent) were exposed to those ads four or more times a week.
Young adults below 35 years old were more likely to be exposed through online media platforms, while people aged 55 and above were through traditional media such as TV, radio, and print.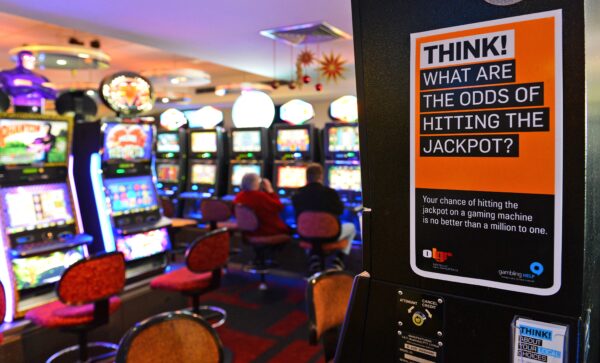 Meanwhile, 21 percent of Australian adults said they had the urge to start betting for the first time after seeing an ad, while 34 percent said they would increase their betting.
"Exposure to wagering advertising is leading to riskier betting behaviour and escalating the likelihood of experiencing gambling harms," the research centre's executive manager Rebecca Jenkinson said in comments obtained by AAP.
"The report also captures the concerns of the Australian public that wagering advertising normalises gambling activity."
Over two in three Australian adults thought that betting ads were too common, while half believed they would normalise gambling among children.
Under such concerns, 64 percent of Australians believed governments should play the most significant role in regulating how wagering was advertised.
Some gambling measures supported by many Australians included a total ban on all social media advertising and sponsorship of sports coverage.
Response from the Government
Following the release of the report, federal Communication Minister Michelle Rowland said the scale and the rate of harm of gambling were particularly concerning.
"Some of the key findings is the rate of people experiencing gambling harm in Australia is estimated to have actually doubled from 0.6 percent ten years ago to 1.23 percent only a couple of years ago," she told ABC radio.
At the same time, the minister said the research was very timely, given that a parliament committee was looking into the issues of gambling advertising and the need to protect vulnerable Australians.
"There's some of the very issues that the inquiry is looking into, including limiting children's exposure," Rowland said.
"The inquiry is looking across platforms, social media, sponsorship and branding."
The minister also noted that while there was a broad community expectation of action against gambling, the government was carrying out the inquiry in a methodical and evidence-based manner to ensure that it could achieve the outcome of minimalising harm.
"We are doing this in a very methodical manner and consultative manner. And I would make clear, too, that part of this government's evidence base will be this transparent inquiry that is currently going on," Rowland said.
Independent senator David Pocock said a gambling reform was urgently needed.
"Gambling is causing so much harm in our community–it should not be normalised," he posted on Twitter.
"We must push the major parties to give up their addiction to betting company donations and take real action to better protect people, especially children."
Meanwhile, the federal government is preparing to roll out BetStop, the first national self-exclusion register allowing Australians to exclude themselves from all licensed interactive wagering services, in the next few months.