Opposition Leaders Voice Concern Over Trudeau's Appointment of Johnston as Special Rapporteur on Foreign Interference
[ad_1]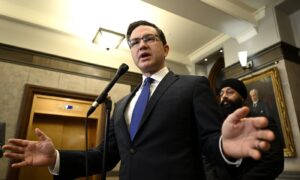 Conservative Party Leader Pierre Poilievre and Bloc Québécois Leader Yves-François Blanchet have voiced concerns over Prime Minister Justin Trudeau's appointment of former governor general David Johnston as the government's "independent special rapporteur" on foreign election interference.
"Justin Trudeau has named a 'family friend,' old neighbour from the cottage, and member of the Beijing-funded Trudeau foundation, to be the 'independent' rapporteur on Beijing's interference," Poilievre told The Epoch Times in a statement on March 16.
Among other points, Poilievre was making reference to Trudeau calling Johnston a "family friend" in 2017 when he was replaced as governor general by Julie Payette.
Blanchet told reporters in Ottawa on March 16 he recognizes Johnston's political experience, but voiced concern over Johnston's "close relation" to Trudeau.
Blanchet also expressed concern about Johnston's views on China, which he characterized as "admiration" for the regime. However, Blanchet also said he is unconcerned about this being a source of interference in Johnston's work as rapporteur.
Poilievre and Blanchet's comments come a day after Trudeau appointed Johnston as the rapporteur tasked with looking into foreign interference in Canada's past two federal elections and with making recommendations to the government based on his findings.
Trudeau said the Liberal government will implement any recommendations Johnston makes, which could include a formal public inquiry or judicial review.
Johnston
Johnston, 81, served as governor general for about seven years after being appointed in 2010 by then-Prime Minister Stephen Harper.
Johnston has received criticism from a number of opposition MPs for being a member of the Pierre Elliott Trudeau Foundation, which was created in the name of former prime minister Pierre Trudeau to provide scholarship programs.
The foundation returned a $200,000 donation in early March after the Globe and Mail reported that it was made by a wealthy businessman with ties to the Chinese Communist Party (CCP), who was then reimbursed by the CCP for making the donation.
Trudeau previously said he has had no ties to the foundation since he was elected to public office.
Calls for Public Inquiry
In his statement on March 16, Poilievre once again called on the prime minister to "call a public inquiry," which NDP Leader Jagmeet Singh also called for shortly after.
Singh told reporters in Toronto that he believes Johnston will carry out his role as rapporteur with integrity and in a non-partisan manner, but added that he still believes the prime minister should call for a public inquiry into foreign interference regardless of Johnston's recommendations.
"Mr. Johnston is someone of strong reputation, of integrity," Singh said on March 16. "And he is someone that's independent and nonpartisan, and so I certainly trust him to do his work."
Singh added that he hopes Johnston's mandate from Trudeau "includes all the information important to assess what the Prime Minister knew" about election interference.
Trudeau has said he will give Johnston a "wide mandate" for the role and that it will be made public as soon as it's finalized.
Noé Chartier contributed to this report. 
[ad_2]

Source link