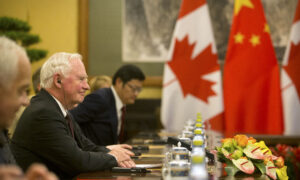 Slightly more than half of Canadians believe that Special Rapporteur David Johnston should have called for a public inquiry into foreign election interference, according to a new Angus Reid poll on May 26.
The national public opinion survey found that 52 percent of respondents said an inquiry should have been called, while 32 percent thought it was unnecessary, and 16 percent were unsure.
Additionally, the poll found that Canadians who followed the foreign interference issue "very closely" or "closely" were more likely to say Johnston was the wrong choice (73 percent and 50 percent, respectively), compared to Canadians "not following closely" or "not following at all" (34 percent and 22 percent.)
Opposition parties and others have criticized the appointment of Johnston to the role of special rapporteur due to his close relationship with Prime Minister Justin Trudeau's family and his former membership with the Trudeau Foundation.
When asked about their confidence in the federal government's ability to combat foreign election interference, a total of 63 percent of Canadians said they were either "not really confident" or "not confident at all."
Conservative and Bloc Quebecois voters were more likely to say they were not confident (86 percent and 70 percent, respectively), while the proportion was smaller among Liberal and NDP voters (37 percent and 52 percent.)
The survey found that 57 percent felt Trudeau and his Liberal government have been "evasive" on the issue of foreign interference, while 16 percent say they have been "transparent."
After media reports suggested there was widespread interference by Beijing in Canada's last two federal elections, Trudeau appointed Johnston to be the special rapporteur on March 15. Rather than launching a public inquiry, which opposition leaders have repeatedly called for, Trudeau said he would follow Johnston's recommendations.
On May 23, Johnston announced that a public inquiry should not be held because the classified information informing his decision could not be revealed to the Canadian public.
Divided by Political Party
Angus Reid said the data revealed "deep political chasms dividing Canadians on the issue of attempted meddling by the Chinese government, and Ottawa's reaction to it."
When survey respondents were asked if Trudeau and the Liberal government have been transparent regarding foreign interference, 86 percent of Conservatives and 87 percent of Bloc Quebecois voters believed they had not been.
Meanwhile, left-leaning voters were more likely to say that the Liberals had been transparent, or that they were unsure.
When it came to Liberal voters, 35 percent said the government had been transparent, 32 percent said it had been evasive, and 33 percent said they weren't sure. A total of 19 percent of NDP voters said the Liberal government had been transparent, 41 percent said they had been evasive, and 41 percent said they were not sure.
The survey found that 57 percent of Liberals believe a public inquiry is unnecessary, while 39 percent of NDP voters felt the same, 25 percent of Bloc Quebecois voters agreed with the sentiment, while just 12 percent of Conservative voters said so.
'Democratic Pillars Are Weakening'
Angus Reid said that in the wake of the revelations about Beijing's potential influence on Canadian politics, there is a "growing sense among Canadians that fundamental democratic pillars are weakening in their country."
The survey found that between January 2022 and May 2023, more Canadians believed that the country's free and fair elections had become weaker (34 percent compared to 43 percent).
During the same time period, the percentage of Canadians who held the belief that "anyone can participate in politics and civic life if they choose to" also experienced a decline, moving from 29 percent to 24 percent, while the same decline was reflected for the belief that "the rule of law applied equally to everyone," falling from 59 percent to 52 percent.