Parliamentary Committee to Recommend Ottawa Increase Ties With Taiwan: Report
[ad_1]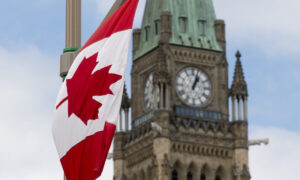 A parliamentary committee is expected to soon recommend that the federal government strengthen Canada's ties with Taiwan, according to a report.
The recommendation is expected to be tabled in a report by the House of Commons Special Committee on Canada–China Relations when the House reconvenes as soon as next week, according to Blacklock's Reporter.
Canada has not had official diplomatic relations with Taiwan since 1970.
MPs on the committee finalized the text of the report, titled "Canada and Taiwan: A Strong Relationship in Turbulent Times," in an off-camera meeting.
The committee is also requesting in the report that cabinet "table a comprehensive response" to its recommendations.
The committee's expected report comes several years after cabinet voiced support for Taiwan to be granted observer status at the World Health Organization (WHO), despite Beijing's position that Taiwan is a Chinese province and should be under its rule. Taiwan is a de facto independent country, with its own military, democratically-elected government, and constitution.
Then-Foreign Affairs Minister Francois-Philippe Champagne told The Canadian Press that Canada supports "Taiwan's meaningful participation in international multilateral fora."
The House also unanimously voted in October 2022 that Taiwan should be granted membership in the WHO as an independent nation after Conservative MP Michael Barrett introduced the motion.
"Taiwan deserves a seat at the table and must have a seat at the table. That is not only in Taiwan's interests: it is in Canada's interests and the world's interests," Conservative MP Michael Cooper told the House on May 16, 2022.
However, a federal government webpage titled "Canada-Taiwan relations" says Canada maintains its "One China policy," but also has "unofficial but valuable economic, cultural and people-to-people ties with Taiwan."
Meanwhile, Assistant Deputy Foreign Affairs Minister Paul Thoppil told the Commons Canada–China Relations committee in November 2022 that the federal government had previously held "exploratory discussions with Taiwan on a foreign investment protection agreement" for several months starting in January 2022.
"Now an assessment is underway as a result of those discussions," Thoppil said, adding that International Trade Minister Mary Ng told her Taiwanese counterpart that Ottawa will soon make a decision on the matter.
The Canadian Press contributed to this report. 
[ad_2]

Source link