Party Leaders Make Final Appeals to Voters Two Days Ahead of Ontario Election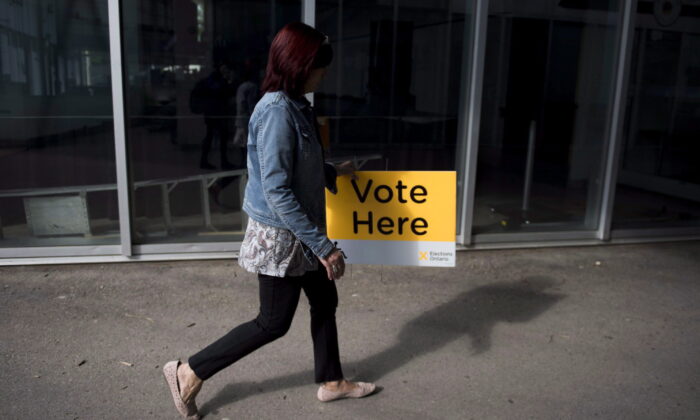 A poll clerk puts up Elections Ontario voting signs outside of the Mississauga-Erin Mills polling station on University of Toronto, Mississauga Campus on June 7, 2018. (Marta Iwanek/The Canadian Press)
With two days left until the June 2 Ontario election, candidates are making their final appeals to voters. Here's a look at the itineraries of the party leaders for May 31. 
As of May 30, Elections Ontario said a total of 1,066,545 voters, or roughly 9.92 percent of eligible voters in Ontario, have cast their ballots during the 10-days advance voting in this year's general election.
Progressive Conservative Leader Doug Ford
Doug Ford started the day with a campaign stop in St. Catharines before heading to Niagara Centre. 
NDP Leader Andrea Horwath
Andrea Horwath spoke about the NDP plan to "stop the cuts and fix health care" in her first stop of the day at the Ron Kolbus Lakeside Centre in Ottawa and moved on to Kingston & the Islands at noon. She also planned to visit the Bay of Quinte and make a stop at a local business in Whitby, before ending her day at the Scarborough-Rouge Park.
Liberal Leader Steven Del Duca
Steven Del Duca started the day in Oakville intent "on stopping Doug Ford," before heading to Mississauga for several campaign stops, focusing on the Liberals' plan to cut the HST on prepared food.
He will end his day at the Grand Taj Banquet Hall in Mississauga at 7 p.m.
Green Party Leader Mike Schreiner
Mike Schreiner made a morning announcement in Port Sydney, then planned campaign stops in Burk's Falls and Novar for the rest of the day. 
New Blue Party Leader Jim Karahalios
Jim Karahalios spoke with several media and online broadcasters on issues including COVID-19 vaccine mandates and the carbon tax.
Derek Sloan is holding a
webinar
at 7 p.m. to talk about the Ontario policies and state of issues that impacts families.
The Canadian Press contributed to this article