Plane Crash Leads Safety Board to Call for Better Heart Screening in Pilots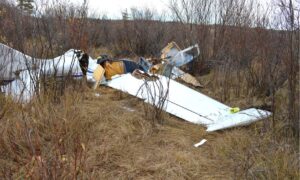 An investigation into the crash of a small private airplane in 2021 has led a federal regulator to call for better screening of cardiovascular health in pilots after finding a potential mid-air heart attack could have played a role.
In its investigative report into the events released on March 14, the Transportation Safety Board (TSB) called on Transport Canada to establish a "framework for routine review" and make improvements to guidelines for civil aviation medical examiners to "ensure it contains the most effective screening tools for assessing medical conditions such as cardiovascular health issues."
This was the only recommendation of the report, which was based on a risk finding about inadequate screening.
The investigation found that the pilot's heart issues could have played a part in the crash, yet he had not been screened in person due to a Transport Canada policy not requiring in-person medical checks.
The report says that "if guidance material and the civil aviation medical examination report do not include up-to-date cardiovascular screening methods to perform a global cardiovascular assessment when appropriate, there is an increased risk that cardiovascular disease will remain unidentified and pilots may become incapacitated while operating an aircraft."
The TSB report relates to the crash of a privately registered, amateur-built Cavalier SA102.5 aircraft in Alberta in October 2021.
The plane, which had two passengers, entered an aerodynamic stall resulting in a spin downwards and subsequent crash when it was 26 kilometres east of Lacombe Aerodrome. The pilot perished and the passenger sustained heavy injuries.
The report says the pilot was experienced, had a commercial pilot license, and was employed by an airline as a captain and training captain.
The plane had also been annually inspected as per regulation with the latest check conducted in June 2021. Weather was also not deemed to be a factor.
The report says the Office of the Chief Medical Examiner in Alberta attributed the pilot's cause of death to "blunt force trauma with cardiovascular disease as a significant contributing factor."
There was also evidence of a heart attack, but the exact time when it occurred was not possible to determine.
The autopsy indicated that "cardiovascular disease with narrowing of the coronary arteries was a significant contributing factor to the pilot's death," says the report.
Commercial airline pilots over 40 are required to undergo a medical examination and be certified fit to fly every six months. The implicated pilot was over 40 and had a valid Category 1 certificate that expired on Feb. 1, 2022.
A Category 3 certificate is needed to fly recreational planes and needs to be renewed every two years.
The TSB noted that the pilot had obtained his most recent Category 1 certificate without undergoing a medical examination. He instead filed an attestation indicating he didn't have any limitations to holding a flying license.
This policy of removing mandatory in-person screening was implemented by Transport Canada as a COVID-19 measure to "reduce the unnecessary exposure of healthy medical certificate holders to potentially hazardous healthcare settings."
The policy was set to expire in March but it was renewed on Feb. 28 by Transport Minister Omar Alghabra.
The decision was made "after having taken into account that the exemption is in the public interest and is not likely to adversely affect aviation safety or security," says the regulation signed on Alghabra's behalf by Andy Cook, associate director general of Civil Aviation at Transport Canada.
The exemption for in-person screening has been extended for an additional 24 months.
The regulation says that the "option for renewal via telemedicine has benefits beyond the COVID-19 pandemic in offering greater flexibility to applicants, specifically those in remote and under-serviced areas."
The Epoch Times contacted Transport Canada for comment on the TSB report but didn't hear back by publication time.
Department spokesperson Hicham Ayoun said in January that the exemption initiative has been "safe and successful" and that Transport Canada seeks to make telemedicine a permanent feature of the Aviation Medical Certification Program.
The Epoch Times reached out to national pilots' associations for comment but they either didn't respond or didn't want to comment.
The Air Canada Pilots Association, representing over 4,000 pilots, said to contact Transport Canada.