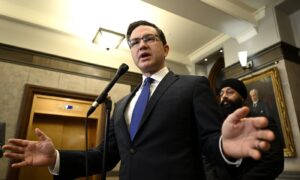 Conservative Leader Pierre Poilievre said on March 14 that if elected, his government would launch a "massive" series of lawsuits amounting to $44 billion against large pharmaceutical multinationals for their role in Canada's opioid and addiction crisis.
"The people who profited from this misery should be the ones to pay the bill. It's about bringing home accountability and bringing home hope," Poilievre announced in New Westminster, British Columbia.
"We will sue big pharma and we will make them pay the price of a massive surge in recovery and treatment programs that will save the lives of our brothers, sisters, friends, and neighbours," he added.
According to recent data released by Health Canada, between January 2016 and June 2022, there have been over 32,000 opioid-related deaths and over 30,000 opioid-related hospitalizations across Canada. Of all accidental opioid toxicity deaths in 2022, 76 percent involved the deadly drug fentanyl.
During the press conference, Poilievre accused drug companies like Purdue Pharma of lying to drug regulators about the addictive nature of opioids in order to market them as safe.
"These powerful multinationals knew exactly what they were doing, but they kept doing it anyway to profit themselves and their wealthy executives," Poilievre said.
Poilievre also said the Liberal government hasn't been holding pharmaceutical companies to account, citing McKinsey & Co as an example.
In 2021, global consulting firm McKinsey & Company agreed to a $573 million settlement for its role in the United States' opioid crisis. The firm's work for Canada's federal government has expanded rapidly since Prime Minister Justin Trudeau's Liberal government came to power in 2015. A parliamentary committee looking into the federal contracts awarded to McKinsey since 2011 has asked the auditor general to review McKinsey's contracts, which has yet to be scheduled.
Drug Policy
Last week, the BC Coroners Service reported that British Columbia's overdose rate has more than doubled since the opioid crisis was first declared back in 2016. Poilievre alleged this statistic was the result of Liberal and New Democrat policies that "flood our streets with easy drugs."
Poilievre also cited a lack of drug treatment programs to respond to the increase in overdoses. He said big pharmaceutical companies, who he says "caused the problem in the first place" by promoting opioids, should pay for the treatment programs.
Poilievre also said his government would publicly join British Columbia's class-action lawsuit against big pharma and their consultants in order to recover the costs to the health care system.
Back in June 2022, Purdue Pharma Canada agreed to a $150 million settlement for the recovery of health-care costs of all provinces and territories relating to the marketing and sale of opioid-based pain medication. British Columbia said it hoped the settlement, which is the largest government health-care cost claim in Canadian history, will pave the road for further similar agreements.
Poilievre also said he would launch a federal lawsuit against big pharma in order to recover the money spent on border security, courts, the criminal justice system, indigenous programs, lost federal tax revenue, and "massively expanded" treatment programs.
The total amount claimed for both lawsuits will be $44 billion, according to Poilievre, which will include the federal share of health-care costs ($3.9 billion), federal money spent on the opioid crisis ($3 billion), money spent on the federal criminal justice system, and lost tax revenue ($27 billion).
Poilievre highlighted how the neighbouring province of Alberta has doubled the number of addiction treatment beds in the province, saying it has "lowered the overdose rate and begun to save lives."
"In other words, we know what we need to do. We need to get people off the streets and into treatment so that we can bring them home, drug-free, "Poilievre said.