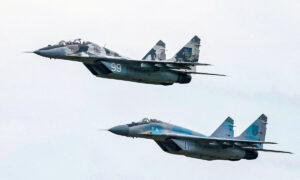 Poland could send fighter jets to Ukraine in the coming weeks, said the country's prime minister on March 14.
"That could happen in the coming 4–6 weeks," Prime Minister Mateusz Morawiecki told reporters without going into specifics.
The State Department responded to an Epoch Times request for comment by not addressing Morawiecki's announcement. Instead, a department spokesperson said, "We continue to work with Allies and partners to identify and provide Ukraine with additional capabilities."
The White House and the Pentagon did not immediately respond to an Epoch Times request for comment.
Last year, Poland proposed sending Soviet-era MiG-29s to Ukraine through a U.S.-NATO base, but the United States refused to conduct the transfer.
Then-Pentagon press secretary John Kirby said the idea of facilitating such a transfer was not "tenable."
"It is simply not clear to us that there is a substantive rationale for it," he said. "We will continue to consult with Poland and our other NATO allies about this issue and the difficult logistical challenges it presents, but we do not believe Poland's proposal is a tenable one."
"The prospect of fighter jets 'at the disposal of the Government of the United States of America' departing from a U.S./NATO base in Germany to fly into airspace that is contested with Russia over Ukraine raises serious concerns for the entire NATO alliance," added Kirby.
During a State Department press briefing on March 13, spokesperson Ned Price sidestepped a question by The Epoch Times about why the United States won't send F-16s to Ukraine.
"On the question of the F-16, what we have done is to provide our Ukrainian partners with what they need for the battle they are facing at the moment and the direction in which that battle is evolving. And you don't have to take our word for the effectiveness of that approach.
"You can look at the determination, the resilience, the grit of our Ukrainian partners but also the success that has translated to, and that in some ways has been enabled by the massive amounts of security assistance that the United States and some 50 countries around the world have provided. These are decisions that we make on a dynamic basis, looking at precisely what the needs are in conversation with our Ukrainian partners, in conversation with our partners in Europe, in NATO, and around the world as well."
Morawiecki's remarks come just days after the Polish president and Slovakia said it was ready to supply Ukraine with fighter jets and that their allies should do so as well.
"I think it's time to make a decision. People in Ukraine are dying. We can really help them," said Slovak Defense Minister Jaroslav Nad in a March 9 post on Facebook. "This is inhumane and irresponsible."
Polish President Andrzej Duda told CNN on March 9 that Warsaw "is ready to hand over our MiG-29 fighter jets to Ukraine as a part of an international coalition."