Poland to Become First NATO Member to Send Fighter Jets to Ukraine
[ad_1]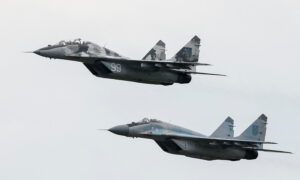 Poland announced on March 16 it will send fighter jets to Ukraine, becoming the first NATO member to do so.
"When it comes to the MiG-29 aircraft, which are still operating in the defense of Polish airspace, a decision has been taken at the highest levels," said Polish President Andrzej Duda at a press conference.
"We can say confidently that we are sending MiGs to Ukraine."
Duda told CNN on March 9 that Warsaw "is ready to hand over our MiG-29 fighter jets to Ukraine as a part of an international coalition."
Poland's move could be a turning point for Ukraine in repelling Russia's invasion as Kyiv has asked for fighter jets since last year—only for Washington and other NATO allies to refuse.
White House Press Secretary Karine Jean-Pierre said on March 16 that Poland notified the United States of its decision to send fighter jets to Ukraine.
"We continue to closely coordinate with our allies and partners, including Poland, as we provide assistance to Ukraine," she said.
National Security Council Coordinator for Strategic Communications John Kirby said on March 16 that Poland's move will not prompt the United States to send fighter jets, namely F-16s.
"It doesn't change our calculus with respect to F-16s," he said.
"These are sovereign decisions for any country to make and we respect those sovereign decisions," he added.
Kirby also said, "They get to determine not only what they're going to give but how they're going to characterize it."
He would not say whether the Biden administration supported or opposed Poland's move.
"I wouldn't think it's our place to characterize Poland's decision one way or another," Kirby said.
Last year, Poland proposed sending MiG-29s to Ukraine through an American-NATO base, but the United States declined to conduct the transfer.
During a State Department press briefing on March 13, spokesperson Ned Price sidestepped a question by The Epoch Times about why the United States won't send F-16s to Ukraine.
"On the question of the F-16, what we have done is to provide our Ukrainian partners with what they need for the battle they are facing at the moment and the direction in which that battle is evolving.
"And you don't have to take our word for the effectiveness of that approach.
"You can look at the determination, the resilience, the grit of our Ukrainian partners but also the success that has translated to, and that in some ways has been enabled by the massive amounts of security assistance that the United States and some 50 countries around the world have provided.
"These are decisions that we make on a dynamic basis, looking at precisely what the needs are in conversation with our Ukrainian partners, in conversation with our partners in Europe, in NATO, and around the world as well."
[ad_2]

Source link