Queensland Legislates Net Zero Emissions by 2050
Queensland (QLD) has become the second state in Australia to legislate a net zero target amid heavy investment into hydrogen and other renewable energy technologies.
This will means QLD will join Victoria—which became one of the first jurisdictions in the world and the first Australian state to legislate a net zero target—in legally enforcing the requirement.
Queensland Premier Annastacia Palaszczuk, who has been moving to transform the state into a major renewable energy player, said that the strategy would make Queensland a renewable superpower.
"By backing Queensland to become a renewable energy and hydrogen superpower, we will make Queensland a manufacturing superpower as well, which will create and sustain jobs long into the future," Palaszczuk previously said in a media release.
"We are seeing an industrial green revolution taking place in Queensland, and it will happen in Australia and throughout the world."
BREAKING: The Queensland Parliament has just voted in favour of our Government's commitment to net zero emissions by 2050. #qldpol

— Annastacia Palaszczuk (@AnnastaciaMP) October 12, 2021
QLD had previously committed to a 2050 net zero target, achieving a reduction in carbon emissions of 30 percent below 2005 levels by 2030.
However, to achieve the new legislation, the state will need to work to adequately replace its eight coal power stations that have supplied almost three-quarters of Queensland's power generation over the last year.
The dependence on coal power was made evident when a fire at a coal plant earlier in May left 400,000 homes without power for several hours, with gas power stations in South Australia needing to be fired up to make up for the demand to quickly reconnect the state's residents.
It comes following a partnership earlier this week with mining billionaire Andrew Forrest to construct a global hydrogen hub.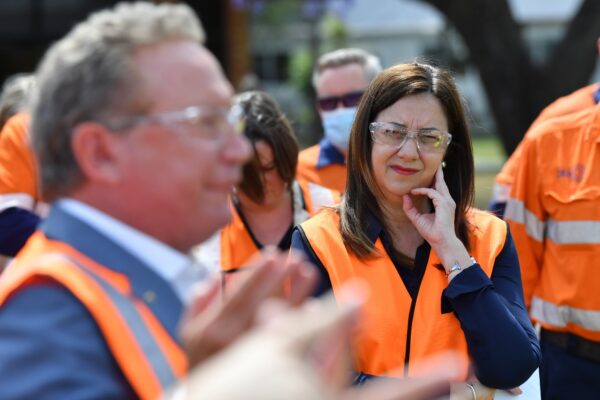 The deal between the Queensland government and Forrest's Fortescue Future Industries seeks to not only create and export hydrogen but to create hydrogen-making equipment—known as "electrolysers." The agreement will also test the feasibility of using "green" ammonia in the shipping industry.
The state's Labor government had already committed $2 billion towards hydrogen, wind, and solar projects in June.
Hydrogen projects, in particular, have sprouted across Queensland ahead of a forecast hydrogen boon within the Asia market.
Queensland had previously already become host to two early-stage deals between Australia and Japan—a deal for Origin Energy to supply 36,500 of hydrogen to Kawasaki Heavy Industries, and a joint export project between Stanwell and Iwatani Corporation which could generate up to $4.2 billion in hydrogen exports.