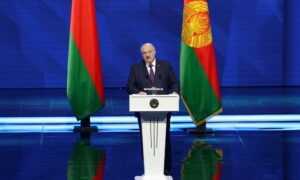 President Alexander Lukashenko said on Friday that Russia, which has already decided to station tactical nuclear weapons in Belarus, could if necessary put intercontinental nuclear missiles there too.
In an annual address to lawmakers and government officials, Lukashenko said Moscow's plans to station nuclear arms on the territory of its close ally would help protect Belarus, which he said was under threat from the West.
"I am not trying to intimidate or blackmail anyone. I want to safeguard the Belarusian state and ensure peace for the Belarusian people," Lukashenko said.
Although Russian President Vladimir Putin said on Saturday that the tactical missiles would remain under Moscow's control, Lukashenko suggested he could use them with Russia's agreement if Belarus was threatened with destruction.
Lukashenko said Belarus had enough conventional weapons to counter threats, "but if we see that behind (the threats) lies the destruction of our country, we will use everything we have."
"If necessary, Putin and I will decide and bring in strategic weapons—if needed," he said.
He offered no evidence of such a threat from the West, or of a further allegation that there were plans to invade Belarus from neighboring Poland, a member of the U.S.-led Western NATO alliance.
'They Are Preparing to Invade'
"Take my word for it, I have never deceived you. They are preparing to invade Belarus, to destroy our country," he told the audience.
Russia's decision to station tactical nuclear missiles in Belarus amid rising tension with the West over its invasion of Ukraine is its first deployment of nuclear weapons outside its borders since the collapse of the Soviet Union in 1991.
Belarus said this week that the weapons would offer protection against what it called a campaign of pressure from the United States and its allies aimed at overthrowing Lukashenko.
U.S. President Joe Biden said on Tuesday he found the promised deployment "worrisome."
In Friday's speech, Lukashenko also called for an immediate, unconditional ceasefire in the Ukraine war, cautioning that Russia would be forced to use "the most terrible weapon" if it felt threatened.
"It is impossible to defeat a nuclear power. If the Russian leadership understands that the situation threatens to cause Russia's disintegration, it will use the most terrible weapon. This cannot be allowed," he said.
The Kremlin acknowledged Lukashenko's ceasefire proposal and said Putin and Lukashenko would have an opportunity to discuss it next week, but that the situation in Ukraine had not changed.
Ukraine has previously rejected Minsk's offer to broker peace.
Belarus has said it will not enter the war, but regularly holds joint military training exercises with Russian forces.