Russia's War an Attack on US-Led World Order; Orphans Caught in Limbo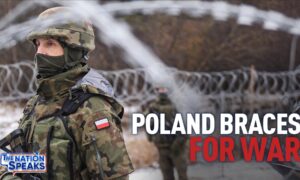 Vladimir Putin's unprovoked invasion of Ukraine isn't just an attack on Ukraine, the real target is the United States, says Warsaw-based geostrategic analyst Jacek Bartosiak. The CEO and founder of Strategy & Future describes how the war has profoundly changed Poland as the country prepares for war.
Next, in America Q&A we ask if the United States should return to energy independence so we aren't reliant on other countries for fuel.
Then, orphans in Ukraine are caught up in the fighting, and in red tape, as we hear from Justin Hayslett, founder of Legacy Refuge, an orphan-care ministry in Ukraine.
Finally, in our second America Q&A we ask: Do you think the United States has a responsibility to help Ukrainian refugees?
Follow EpochTV on social media:
Facebook: https://www.facebook.com/EpochTVus
Twitter: https://twitter.com/EpochTVus
Rumble: https://rumble.com/c/EpochTV
Gettr: https://gettr.com/user/epochtv
Telegram: https://t.me/EpochTV