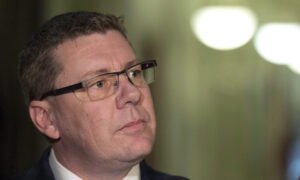 The Saskatchewan First Act (SFA), designed to give the province autonomy and jurisdiction over its natural resources, has passed the legislature.
"This is a major step in defending our economic potential from federal overreach while we continue to build a strong and growing economy that benefits everyone in SK. That's growth that works for everyone," Saskatchewan Premier Scott Moe said on Twitter March 17.
Bill 88 amends the Constitution of Saskatchewan to confirm its autonomy over three areas that are laid out in the Canadian Constitution in a section on resources: exploration for non-renewable natural resources; the management of non-renewable and forestry resources; and the operation facilities for electrical energy production.
Additionally, the SFA will create an independent Economic Impact Assessment Tribunal, tasked with assessing impacts that federal initiatives have on the province's projects, businesses, and people.
The Act will protect the province from "constitutional overreach" by the federal government,  Saskatchewan Justice Minister and Attorney General Bronwyn Eyre said in a release March 16. "We will always stand up for Saskatchewan people against policies that hurt our economic potential and growth," she said.
Eyre previously said that the federal government was "infringing" on provincial jurisdiction through its federal carbon tax, environmental impact legislation, and the incoming "Just Transition" legislation aimed at a transition to a low-carbon economy.
First Nations groups have said, however, that the SFA infringes on their rights.
First Nations Groups Slam the Bill
According to the province, following discussions with First Nations and Métis organizations, amendments to the bill were introduced by Athabasca MLA Jim Lemaigre, stating that nothing in the Act abrogates or derogates from Aboriginal and treaty rights.
"Treaty rights are already enshrined and protected in all provincial legislation, as well as Section 35 of the federal Constitution Act, 1982," said Eyre. "However, I welcome the amendments from the member from Athabasca which provide even further clarity and certainty about our government's respect for treaty rights."
Several Indigenous leaders, including members of the Federation of Sovereign Indigenous Nations (FSIN) and Metis Nation Saskatchewan, attended the Saskatchewan legislature Thursday to express their displeasure with the passing of Bill 88.
SFA infringes upon Section 35 of the Constitution Act, 1982, which recognizes and affirms the existing Aboriginal and treaty rights of Canada's Aboriginal people, Vice President of Metis Saskatchewan Michelle LeClair said at the legislature, according to Global News.
"We have 80,000 Metis people in this province, and their rights are being disrespected," LeClair said.
The Epoch Times reached out to the Federation of Sovereign Indigenous Nations and Metis Nation Saskatchewan for comment, but did not receive a response as of publication.
In December 2022, Federation of Sovereign Indigenous Nations Chief Bobby Cameron threatened there would be blockades if the SFA passed.
"We have mandates from the chiefs in assembly to move forward legally [and] politically," he said at a press conference at the time, according to the CBC. "And we're about to the point where we're going to start blockading."
The Canadian Press contributed to this report.