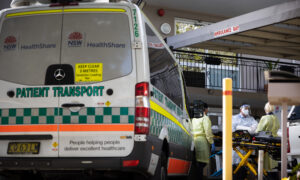 Fourteen school children are in a hospital in Australia after they and eight of their classmates ate an "unknown substance" on a morning school bus.
Police and the education department are investigating how 22 students, aged between eight and 12, ingested the substance, reportedly in lollies, before feeling unwell upon arrival at Bluewater State School in Townsville.
Paramedics assessed 16 children who were suffering similar symptoms, including nausea, little abdominal pain, and lightheadedness.
"A lot them were saying, in children's words, they're crook in the tummy, they feel like they're going to vomit and feeling a little dizzy," Queensland Ambulance Service supervisor David Wright said.
Paramedics rushed six of the children to Townsville University Hospital before transporting another eight soon afterwards.
All 14 students are said to be in a stable condition as medics monitored their vital signs, with toxicology tests also being conducted.
"Obviously, for children, it could be quite daunting, but they're all mild symptoms at this moment," Wright said.
"They're all doing the best they can."
The other eight students who ate the substance stayed at the school but remained under observation.
Bluewater State School said it could not provide further details due to "privacy issues".
"Bluewater State School holds the safety of students and staff as its highest priority," it posted to Facebook.
"The department is aware of an incident that occurred today at Bluewater State School, which required the assistance of emergency services.
"School staff acted quickly to attend to the students while the Queensland Ambulance Service and parents were contacted."
Guidance counselling will be offered to the children involved.