South Australian Premier Accused of 'Sleeping with the Enemy' After Speaking at Chinese Consulate Opening
South Australian Independent Senator Rex Patrick has accused Premier Steven Marshall of "sleeping with the enemy" after the state leader spoke at the opening of a new Chinese consulate in Adelaide—where he was shouted down by hundreds of protestors.
Patrick, who spoke at the protest, expressed concerns about the national security implications of the controversial new Chinese consulate in the quiet suburb of Joslin, which is in the same city that is home to Australia's largest community of Uyghur Muslims.
It is also home to the country's new $145 billion naval shipbuilding program.
"It's not appropriate for Adelaide. It's not appropriate for Joslin. It needs to go, and I will be making further representations in Canberra when Parliament resumes," Patrick told The Epoch Times on March 30.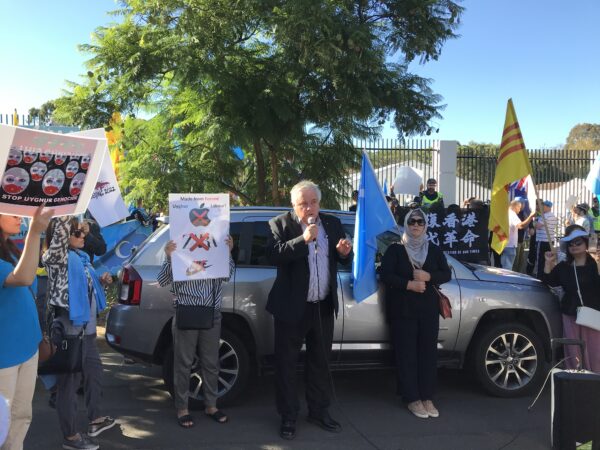 Patrick said that Australia needs to recognise the risks involved in having such a large consular presence in Adelaide.
"We know in the United States that there were Chinese consulate staff arrested on indictable offences relating to breaches of U.S. national security," he said. "There's no doubt there are activities that will be taking place here that that are inconsistent with [Australia's] national security."
Patrick accused Marshall of "rolling out the red carpet" for the Chinese regime while Beijing imposed trade restrictions on South Australian products, such as lobsters, grain, and wine.
"We have the premier of South Australia, Steven Marshall, rolling out the red carpet in circumstances where it's just simply inappropriate," Patrick said.
"He's actually sleeping with the enemy," he added.
After Beijing's latest tariff on Australian wine, Prime Minister Scott Morrison said that it was "not okay" and labelled the move as "retaliation" for Australians standing up for their values.
The tariffs were the latest example of what U.S. Secretary of State Antony Blinken last week labelled Beijing's "blatant economic coercion" of Australia.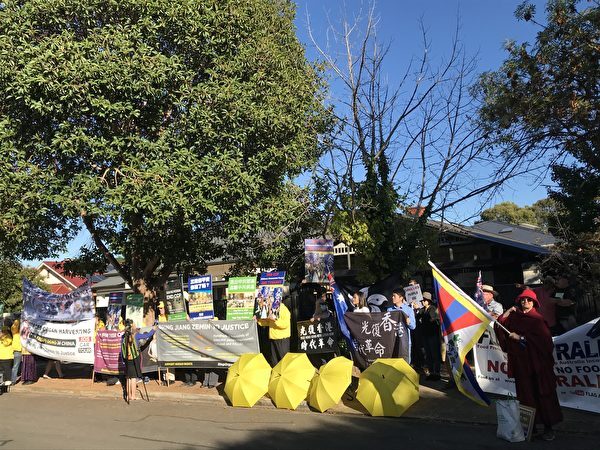 Patrick said he is "very worried" about Adelaide's Uyghur community's safety, given it is the largest in Australia.
Patrick named the Uyghur genocide, repression of freedom in Hong Kong, and the locking up of Australian journalists in mainland China as activities that the Chinese regime engages in that are inconsistent with Australian values.
His sentiments come after the United States, Canada, the United Kingdom, and the European Union last week collaborated to impose Magnitsky-style sanctions on Chinese Communist Party (CCP) officials for the Uyghur genocide in Xinjiang, China.
While their allies took action to sanction Chinese officials, Australia and New Zealand offered a joint statement expressing their grave concerns about the severe human rights abuses against Uyghurs.
The senator was not alone in his sentiments, as News Corp's The Australian reported that over 300 people from the Uyghur, Hong Kong, and Chinese communities, as well as angry locals, protested from the sidewalk at the rear of the compound on Fifth Avenue.
The protest was organised by the East Turkistan Australian Association and joined by communities of Uyghur Muslims, Tibetan Buddhists, and Falun Gong practitioners, Hong Kongers, Vietnamese, local Australian residents, politicians, and representatives of Australian farmers and industries impacted by the CCP's trade restrictions.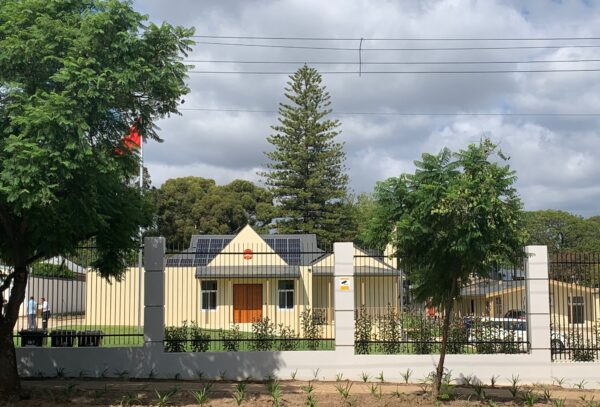 The Australian reported that former Joslin resident Heather Adams returned to join her former neighbours in the protest.
The publication reported that Adams knew of no one who was happy that the consulate was there.
"Just look at the damned thing—it's a fortress," Adams said.
"I know people who have lived here for 40 years, and suddenly this monstrosity turns up with all its cameras and huge walls in a suburb where everyone else has to abide by planning laws because it's a heritage area," Adams said.
"We have sold our soul as a nation to a communist regime that is trying to destroy South Aussie businesses and has no regard for human rights," she said.
The Australian reported that Marshall defended his decision to attend the opening of the consulate, saying that his state still had strong economic and cultural ties with China that he was trying to maintain for the good of South Australian businesses.