Leaders of both nations hope to 'open a new chapter' in bilateral relations.
The leaders of Japan and South Korea have agreed to restore bilateral ties, including the "complete" normalizing of a military intelligence-sharing pact to counter North Korea's nuclear and missile threats.
South Korean President Yoon Suk-yeol met with Japanese Prime Minister Fumio Kishida at a summit in Tokyo on Thursday, where both promised to turn the page on years of animosity over their countries' difficult, shared history.
Yoon's visit to Japan is the first visit by a South Korean president in 12 years.
The lack of cooperation between the two countries has long undercut U.S.-led efforts to present a united front against China and North Korea.
The urgency of the regional security situation—and the threat posed by North Korea—were underscored hours before Yoon's arrival when North Korea fired an intercontinental ballistic missile that landed in the sea between the Korean peninsula and Japan.
At the summit, Yoon said he had declared "the complete normalization" of the General Security of Military Information Agreement (GSOMIA).
"I believe the two countries should be able to share information on North Korea's nuclear missile launches and trajectories and respond to them," Yoon said at a joint press conference, Yonhap News Agency reported.
Both nations signed the GSOMIA in 2016. In 2019, the former Moon Jae-in administration considered scrapping the deal after Japan tightened export controls on South Korea amid a wartime forced labor dispute.
Kishida said at the summit that Japan would lift its export controls on key industrial materials used for semiconductors and displays to South Korea.
韓国の尹大統領をお迎えし、国交正常化以来の友好協力関係の基盤に基づき、日韓の関係を更に発展させていくことで一致しました。また、「シャトル外交」の再開でも一致しました。
現下の我が国の戦略環境の中で、日韓関係の強化は急務です。
引き続き、緊密に意思疎通を継続していきます。 pic.twitter.com/4wA4LctFqh

— 岸田文雄 (@kishida230) March 16, 2023
"We have decided to launch consultations on economic security between Japan and the ROK. Progress has also been made in the area of export controls," Kishida said, using the acronym for South Korea's official name, the Republic of Korea.
Kishida said he hoped to "open a new chapter" in the relations between South Korea and Japan by resuming bilateral visits from both sides "without being bound by formality."
Historical Disputes
The two countries' relations have been hampered by historical disputes, including the forced labor of Koreans by Japanese companies during Japan's 1910-1945 colonial rule of Korea and the exploitation of Korean women in Japanese military-run brothels.
In 2018, the South Korean Supreme Court ruled in favor of compensation by Japanese companies that benefitted from forced labor. However, Japan argued that all compensation issues had been resolved under a 1965 treaty between the two nations.
Last week, South Korea's government said that it would use local funds to compensate victims of forced labor instead of pushing Japanese companies to pay compensation.
North Korea Fires ICBM
North Korea launched an intercontinental ballistic missile (ICBM), particularly the Hwasong-17, into the East Sea of Korea just hours before Yoon landed in Japan for the summit.
The ICBM was launched from the Pyongyang International airport and traveled up to a maximum altitude of 6,045 kilometers (3,756 miles). It flew some 1,000 kilometers (621 miles) before falling into the open sea, the state-run Korean Central News Agency (KCNA) reported.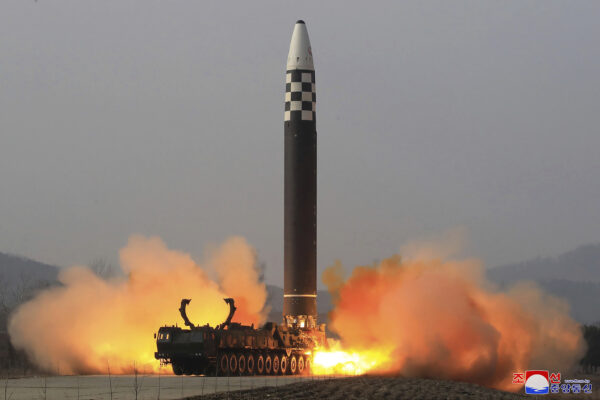 The Hwasong-17 is known to be North Korea's largest ICBM, estimated to have a range of over 13,000 kilometers (8,077 miles), making it capable of striking any location in the continental United States.
KCNA said that North Korean leader Kim Jong Un oversaw the launching drill, which confirmed the North Korean military's reliability and "the war readiness" of the ICBM unit.
Kim emphasized the need "to strike fear into the enemies, really deter war and reliably guarantee the peaceful life of our people and their struggle for socialist construction by irreversibly bolstering up the nuclear war deterrent," it stated.
The ICBM launch was part of North Korea's retaliatory response to the U.S.-South Korea joint military drill, known as the Freedom Shield, which North Korea perceived as a "hostile act." The drill began on Monday and will last for 11 days.
Kim warned that such "persistent expanded anti-DPRK military moves will bring an irreversible, grave threat to them." DPRK is the acronym for North Korea's official name, the Democratic People's Republic of Korea.
North Korea also fired two strategic cruise missiles on March 12 and two short-range ballistic missiles on Tuesday in response to the Freedom Shield exercise, all of which are banned under U.N. Security Council resolutions.
Ben Zhao and Reuters contributed to this report.