Sri Lanka has secured India's support for its debt restructuring plan, a key to Sri Lanka securing a $2.9 billion bailout package from the International Monetary Fund (IMF), but it still requires support from its biggest bilateral lender, China.
Indian External Affairs Minister Subrahmanyam Jaishankar said Friday that India will extend financing assurances to the IMF to clear the way for Sri Lanka to move forward with its economic recovery.
Jaishankar made the remarks at a press conference following his meeting with his Sri Lankan counterpart, Ali Sabry, and President Ranil Wickremesinghe in Colombo on Friday.
During the meeting, Jaishankar reaffirmed India's commitment to being a "reliable partner" to Sri Lanka, saying that India had decided "not to wait on others but to do what is right," according to Sri Lanka's Presidential Office.
"We felt strongly that Sri Lanka's creditors must take proactive steps to facilitate its recovery. India decided not to wait on others but to do what we believe is right," he told reporters.
"Our expectation is that this will not only strengthen Sri Lanka's position but ensure that all bilateral creditors are dealt with equally," he added.
Both sides agreed on a renewable energy framework to deepen bilateral cooperation, Sri Lanka's Presidential Office said. Jaishankar also suggested that Sri Lanka make use of its renewable energy to boost revenue.
"I'm confident that the gravity of the situation is realized by policymakers. So energy security is today one of Sri Lanka's most serious challenges. A search for solutions must necessarily encompass the larger region. Only then will Sri Lanka get the full benefit of scale," he said.
Sri Lanka had $13.8 billion in bilateral debt as of September 2022, of which 52 percent is owed to China, according to Sri Lanka's finance ministry (pdf). Japan holds 19.5 percent of Sri Lanka's debt, while India holds another 12 percent.
Pending China's Support
Sri Lanka and the IMF have reached a preliminary agreement on a $2.9 billion bailout plan over four years, but final approval depends on assurances given by creditors on the debt restructuring.
Japan last year conveyed its support for Sri Lanka's debt restructuring plan, leaving China as the only creditor who has not yet approved it.
Deputy Secretary to the Treasury Priyantha Ratnayake said Friday that Sri Lanka expects China to give its financing assurances within "the next few days" as discussions with the Chinese regime have reached "the final stage."
"It is difficult to give details of the debt restructuring negotiations because of the confidentially of discussions," Rahnayake told reporters, according to Reuters.
In November last year, Wickremesinghe announced that loans borrowed from the Exim Bank of China by some state-owned enterprises would be classified as government debt.
These companies include Ceylon Electricity Board, Sri Lanka Ports Authority, and Airport and Aviation Services. Sri Lanka would also take over the guaranteed foreign exchange debt owed by the Ceylon Petroleum Corporation.
According to the president, removing the loans from these companies' balance sheets will strengthen their financial statements, which will draw in more investors.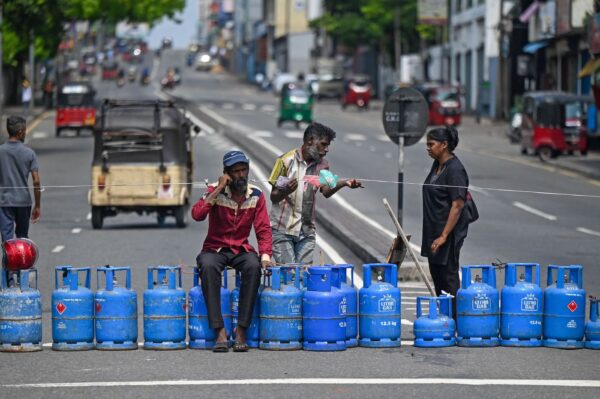 The country's unprecedented economic crisis has left millions of its people in need of life-saving aid, with severe shortages of essential medicines and frequent power cuts jeopardizing the country's health care system.
Sri Lanka has since shown some signs of progress with shortages reduced and day-to-day functions restored. However, daily power cuts continue due to the fuel shortage and the government is struggling to find money to pay government employees' salaries and conduct other administrative functions.  [AP]
The government announced this month it is cutting 6 percent from the budgets for each ministry this year and plans to downsize its military, which had swelled to more than 200,000 personnel due to a long civil war. The government plans to cut the military's size by nearly half by 2030.
The Associated Press contributed to this report.