Tens of Thousands in Toronto, Other Cities Protest Iran's Government
Tens of thousands of members of the Iranian community in the Greater Toronto Area held a protest in Richmond Hill on Oct. 1 against Iran's government. Similar events were held in other cities in Canada and around the world, including New York, London, Rome, and many others.
The demonstrations were held amid ongoing protests in Iran, sparked by the death of 22-year-old Mahsa Amini after being arrested for wearing "unsuitable attire" in Iran.
In Richmond Hill, Conservative Leader Pierre Poilievre and his Deputy Leader Melissa Lantsman joined the protest, as did Ontario PC MPP Michael Parsa, who is of Iranian origin.
Spoke to thousands in Richmond Hill fighting for a free Iran. #MahsaAmini

Enough talk, Liberals must act now.

Sign our petition to list the IRGC as a terrorist group & support Iranian people in their fight for freedom against this murderous dictatorship: https://t.co/8YlNmGgTKP pic.twitter.com/cANV13fzAf

— Pierre Poilievre (@PierrePoilievre) October 1, 2022
Large crowds of people have been holding demonstrations in various Iranian cities since the death of Amini on Sept. 16. She died after falling into a coma following her detention in Tehran by morality police enforcing hijab rules on women's dress.
Security forces have cracked down on protesters, and many have been killed during the demonstrations. According to the Norway-based Iran Human Rights organization, at least 83 protesters have been killed by security forces as of Sept. 29.
"On the other hand, thousands of protesters and civil activists have been arrested so far, and the arrest process continues," the organization said. "Internet access has also either been severely disrupted or completely cut over the last seven days."
Iran's state media say members of the security forces have also been killed during the protests.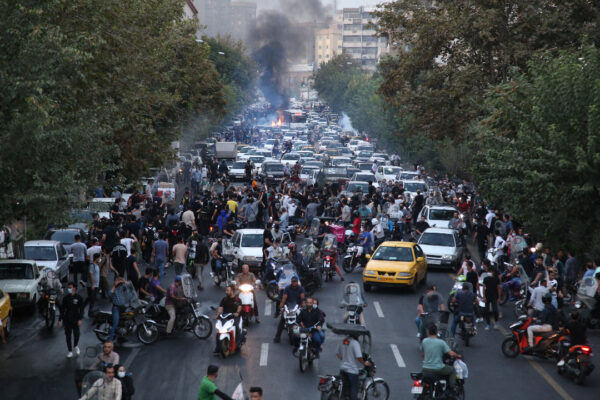 On Oct. 1, protests were held throughout Iran's Kurdish region, where Amini was from, and rallies were held in the country's largest cities, including Tehran, Isfahan, Rasht, and Shiraz.
Protests were also held at universities, including Tehran University.
The event in the Toronto area was one of the largest showing of the Iranian community in the area, with demonstrators shouting Mahsa Amini's name and demanding a free Iran. The event included a rally in Richmond Hill and a march led by families of the victims of the Ukraine International Airlines Flight PS752 which was shot down by Iran, killing 176 people, including 55 Canadian citizens and 30 permanent residents.
Reuters contributed to this report.