The Faces and Voices of the Canadian Freedom Convoy
Canadians—whichever side of the Freedom Convoy protest they sit on—will be counting the cost of the three-week occupation of the capital Ottawa for some time to come.
By Feb. 21, police had made 196 arrests, with 110 people charged with an assortment of matters including obstructing police, causing a disturbance, disobeying a court order, mischief, and assault.
Police said some unlawful protesters had returned to the area after being arrested and released and now faced new charges.
Authorities towed away 175 vehicles, including heavy trucks, pickups, and cars.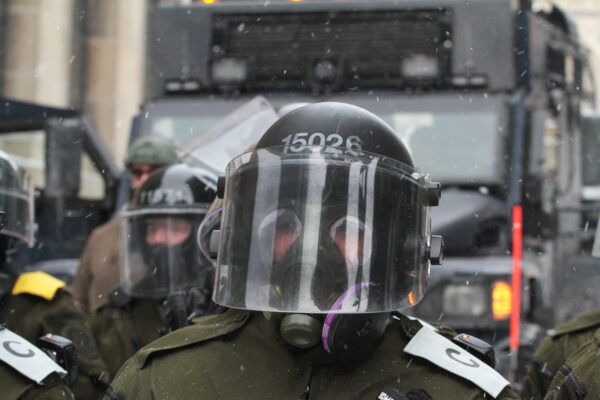 Ottawa's Mayor Jim Watson estimated that the protest action was costing his city upwards of $626,000 a day. Ottawa police put the bill of policing the first 18 days of the occupation at about $14 million.
The truckers with rigs that have been towed away are likely to lose their livelihoods as Watson wants to confiscate their vehicles to help pay for city costs.
After 10 days of interviews with truckers and those who supported them, it is likely that opposition to what many protesters see as government overreach may not end even after Ottawa streets are cleared.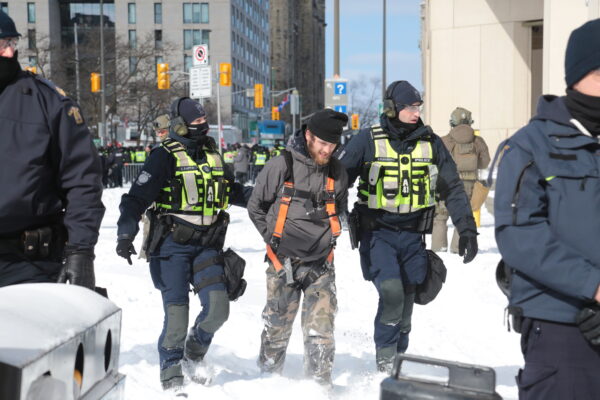 Mike Jamieson's white whiskers made him look like a lot like a certain character who flies around the world at Christmas and while his transport was no magical sleigh—it certainly was an attention-grabbing, bright yellow Freightliner big rig.
Amid dozens of other vehicles occupying the eastern end of Wellington St, in Ottawa, its size and color—complete with two distinctive flags of Nova Scotia sitting on either side of its engine—made the truck impossible to ignore.
So much so that on Feb. 16 young Rupert Jack and his mom Julia, of Ottawa, brought along a Valentine's heart to give to the trucker and let him know he had their support; and that he and the other drivers were all doing an important thing.
Jack said she thought the Canadian government's vaccine mandates were illegal under the Nuremberg Code—developed after the Nazi atrocities in World War II in which people were subjected to cruel medical experimentation.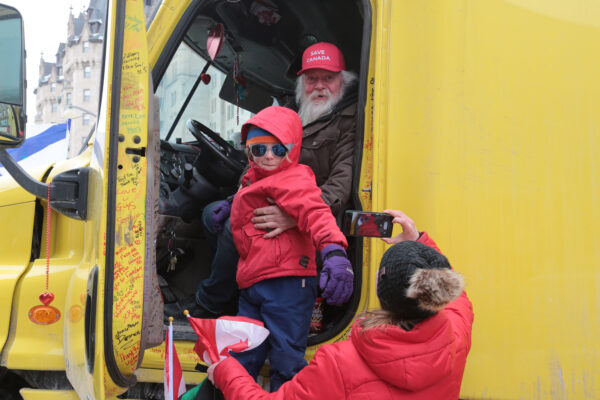 After delivering his heart, Rupert's next wish was to blow the truck horn.
Jamieson, of Windsor, Nova Scotia, was tickled by the youngster's attention and helped him into the cab where he was able to sound the truck's warning claxon.
The boy was thrilled.
After his guests had left, Jamieson told The Epoch Times he had been a trucker for 47 years.
He arrived at the protest site in Ottawa on Jan. 28, a Friday night. He came to stand up for freedom.
That word was the one most frequently used by people who spoke to The Epoch Times in the Freedom Convoy encampment in the Canadian capital directly across from Parliament Hill.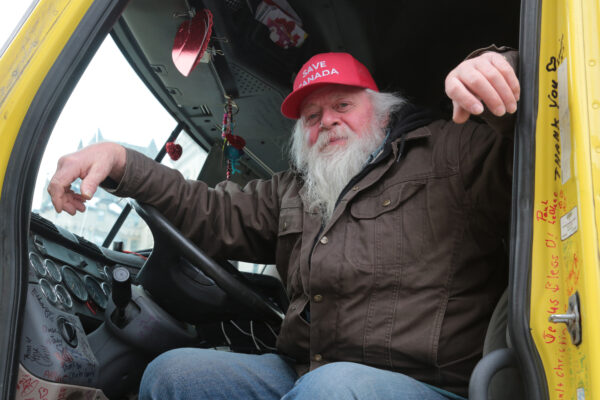 It was used by speakers on the stage set up in the center of the protest area, protesters with megaphones, and in quieter conversations between truckers or those who came into the city to show their support.
The word was featured on signs, flags, and messages that adorned the rigs and placed along the fleur-de-lis topped metal fence that edged the parliamentary and governmental precinct.
The second most common word was "peace" and none of the hundreds of Canadian truckers involved in what has been dubbed the "Siege of Ottawa" seemed the slightest bit interested in doing anything other than staging their protest against pandemic restrictions and mandates in a peaceful manner.
"I'm here to fight for your rights. I think there is a higher power above us that knows what is going on and how unfair the world has been. And what is going on in the world," Jamieson said, adding that he would stay until the protest was over.
Canadian Prime Minister Justin Trudeau on Feb. 14 declared a state of emergency to break the trucker protest, invoking what was previously known as the War Power Act. At the press conference announcing the state of emergency, Deputy Prime Minister Chrystia Freeland announced a number of measures to reduce funding to the protests, including giving banks the power to freeze the accounts of those involved in the protests. Freeland said companies whose trucks are used in blockades will have their corporate accounts frozen and their insurance suspended.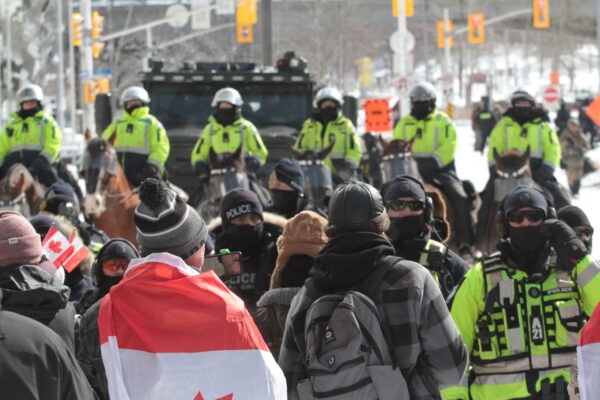 Jamieson said he was not scared about losing his truck.
"No, I have another one to drive," he chuckled. "I'm not scared if I lose anything.
"I'm 69 years old. What's there to be scared of?
"If you have to live in fear there is no point. We should be able to walk in peace and do what is right. I've always lived within the law and about the law."
"I'd like to have freedom for my kids so that they can have a better life … to have things more fair for people.
Jamieson said he felt the world was in chaos—not just in Canada.
"I don't like to put people out of their comfort zones, but sometimes you have to. You have to fight for what you believe in and fight for your freedom."
Two days later on Feb. 18, Jamieson was arrested by two police officers for refusing to move his truck. He wore a red cap that day with the words "Save Canada."
He peacefully got out of his cabin, put his hands behind his back, was handcuffed, and walked to an area where other protesters were being processed.
On Feb. 11 The Epoch Times talked with Bill Dykema, 71, from Grimsby, Ontario.
Dykema was one of the first truckers to block Wellington St, which bordered the parliamentary precinct.
Dykema had a deeply lined face, glasses, a twinkle in his eyes, and a friendly smile.
Asked why he was protesting for the first time his answer was simple.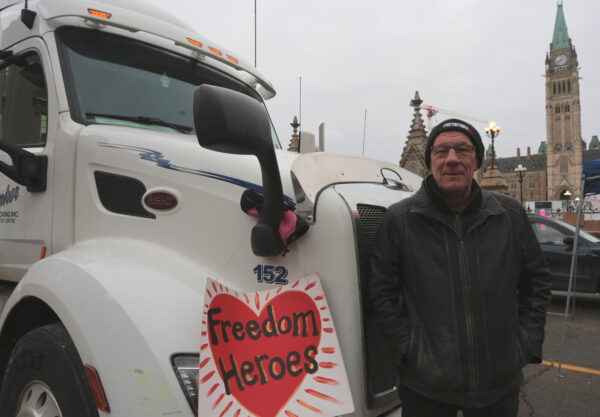 "I have 19 grandchildren. [It's] for them, and to give them their freedom," he said. "My grandson wants to go to university but he can't because he's not shot, not injected."
"I don't call it a vaccine or injection because it's bad stuff in my book," Dykema added. "Our best friend, she got one shot—we buried her."
"I'm just a 71-year-old, poor old working man. Our freedoms have gone. You can't go to a restaurant, unless you're shot."
Dykema estimated he was probably losing $1400 to $1500 a week while living in his truck at the protest camp.
"I have never before done anything like this. I am doing it for my grandchildren," Dykema said.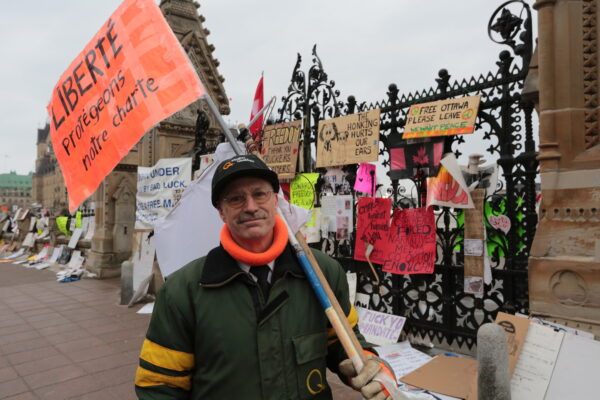 Armand Theriault, 57, is a retired worker from Quebec. He was in Ottawa to support the truck drivers.
"What these guys do is for everyone," he said on Feb. 11, "freedom for us and your children."
Dressed in a green winter jacket, a business shirt, and a tie, Theriault had a quiet determination about him.
He arrived Jan. 10 to support the truckers and spent his first evening walking around the vehicles keeping an eye out for anything amiss.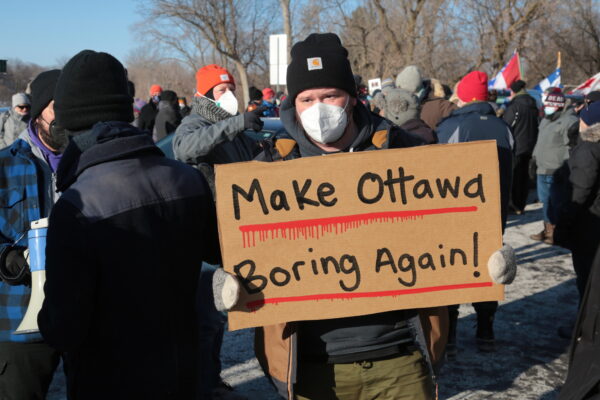 Not everyone in Ottawa was happy with the protest.
As Theriault talked with The Epoch Times a man walked by and loudly told him something in French.
It was "you crashed the economy."
He shrugged it off and said it was important to provide extra security at night.
"We do everything we can."
He added, "This is a peaceful protest and we want to know the truth.
"It is not just us who will win, every country around the world will."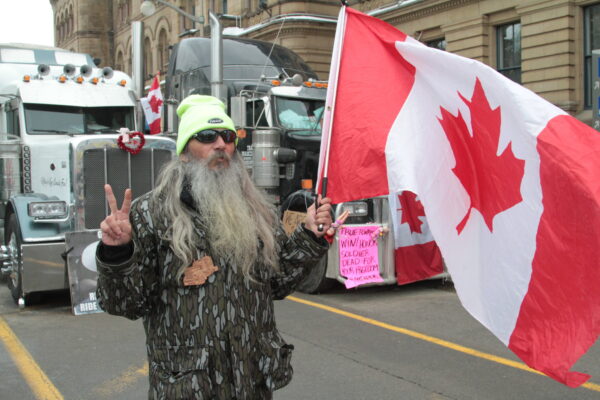 One of the icons of the protest was Dana-Lee Melfi, 50.
With a long gray beard and hair to match he stood silently for up to 10 hours a day with a Canadian flag in one hand flashing a peace sign with the other.
"I have been here since before the beginning. I was born in Ottawa and I can't stand to see what our country is becoming," Melfi told The Epoch Times.
"We are here in peace, but there was a couple of bad actors and jokers in front of these trucks," he added. "So the truck drivers have asked me to stand here and hold the line."
"I stand here 10 hours a day and show our simple message that we are here in peace."
What does Melfi do for a living?
"I am a government employee … maybe," he added laughing.
"they all have to go," he said about the vaccine mandates. "No one can force me to do anything to my body that I do not wish."
"It's very un-Canadian."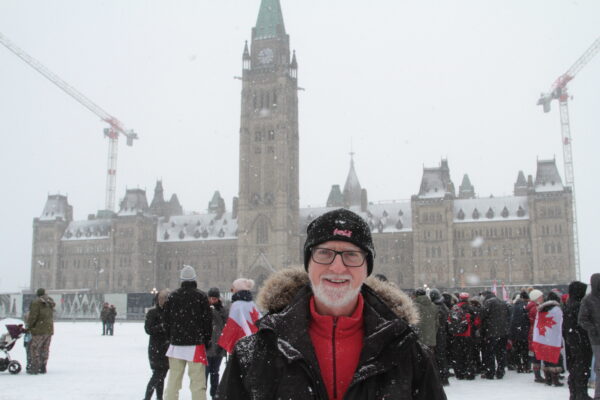 A nearly retired carpenter from Orleans, Denis Cadieux, told The Epoch Times he liked almost everything about the protests and the way people had behaved.
If there was one thing he would have changed it would have been to cut out the negative signs and messages.
Cadieux said the main phrase he didn't like was the one that said "[expletive] Trudeau."
"Trudeau is a human being like anybody. He makes mistakes and, unfortunately, he is making such a big mistake he needs to step down.
"And that we understand, but we cannot hate him for that. Hate is a big word."
He said Trudeau and "the mainstream news had made it sound like we are disrupting the economy, but actually it is their delays in not sitting down to speak with us that are disrupting the economy."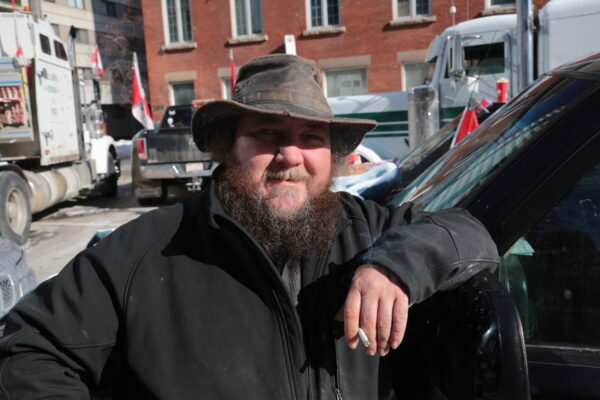 Chris "the Beeman" was a trucker and honey farmer from northwest of Toronto.
He was with the truck protest in Ottawa "since the start."
"The Beeman" and his fellow drivers were in a residential part of the central city near Bank and Slater streets on Feb. 13.
He told The Epoch Times the protesters were mindful of being where people lived and had been respectful to the people.
"We don't blow our horns, we don't honk our horns. There was a birthday party across the street last night. We talk to the kids, it's all good. It's like a little family this street."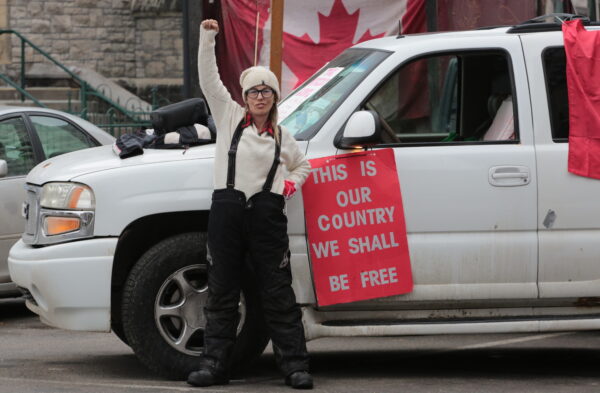 Was he worried about what was coming from the police?
"No, we have a right to demonstrate our rights to freedom.
"People are going to get arrested because they fought for their freedoms. What they are doing to the people—lockdowns and everything—is criminal.
"It all needs to come to an end because our people are hurting. Our people can't even go to church. We have rights of freedom and religion and so why can't people go to church. You can't tell me only 10 people can go to a funeral now?"
When asked to move on?
"I'm not worried about losing my truck but before I get tossed in the basket it will lose all four tires."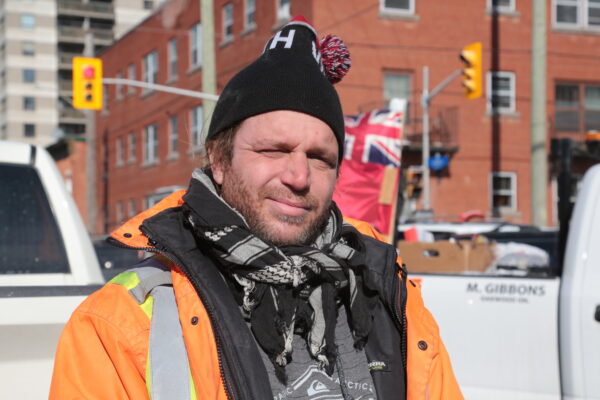 Nearby, Louis Lassard of Quebec, told The Epoch Times that the Ambassador Bridge protest blockade was "beautiful" and that his fellow truckers "are holding the line." He hadn't heard that police had moved in that morning and cleared the way for about $400 million in goods to resume running across the span linking Ontario to the United States.
Disappointed with the news Lassard said, "I'm going to stay as long as it takes.
"I don't care about them taking my truck. I don't care.
"How many times did Gandhi or Nelson Mandela get arrested for doing the right thing? So I don't mind. We will face the consequences of whatever has to happen, but something has to happen.
"We are on the right side of history here."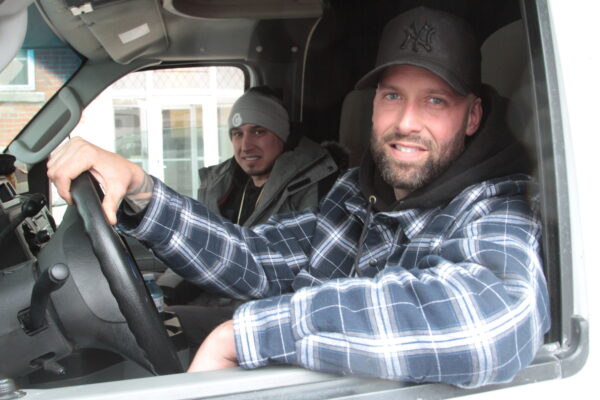 Two other Quebec truckers, Eric and Patrick, who did not want to give The Epoch Times their last names, said they were protesting again mask and vaccine mandates.
"In Quebec we don't have no more rights," Eric said. "I'm here because I want my rights back. For my children, for the other children, for the future generations.
"I'm not going to move until this [expletive] is done."
Early on Feb. 16, Gaston Lanthier, an Ottawa resident, and Stephane Elia, a trucker from Quebec, were in a central café having a coffee.
Lanthier supported the trucker protest.
Lanthier said he had a few friends who were truckers and he'd met others recently in the city.
"To be quite honest they are very nice people," Lanthier said.
Elia spoke little English and so Lanthier did most of the talking to The Epoch Times.
"People are divided 50-50 on the issue. We live in a very selfish world. It's me, myself, and I," Lanthier said.
Lanthier said it took the truckers to come in to have other leaders follow, "because nobody else would have done it."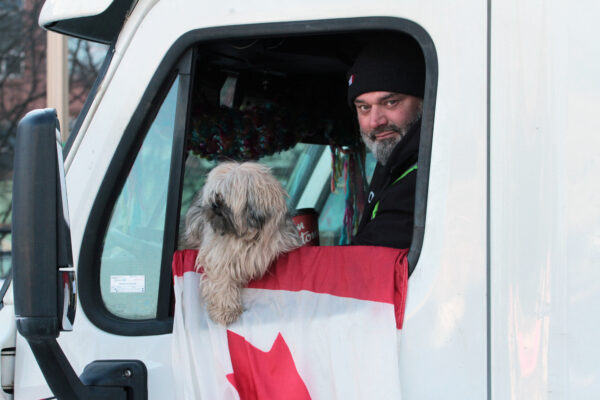 On Feb. 16, Andre Landry of Quebec wearing a black beanie on his head and an almost constant smile on his face told The Epoch Times he had been at the protest for 20 days and was not worried about losing his truck.
His vehicle was one of the closest to the protest's center.
"I have 15," he shrugged.
So is he staying warm at night with snows falling and temperatures well below freezing?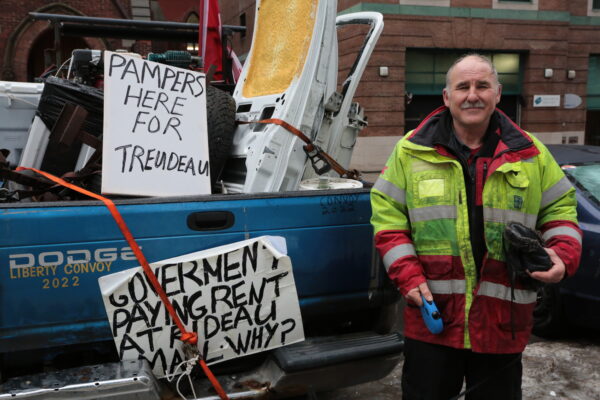 Trucker Doug Day, from Kitchener, Ontario, has been on-site of the protest for about six days and admits living in the small cab of his utility was not comfortable, particularly with his large three-legged dog Lucky with him.
"It's a little rough sleeping in the truck, but hopefully we can stop the overreach of the government.
"I'd like to see [Prime Minister Justin] Trudeau stand down. He's the laughing stock of the world and he's doing the wrong thing.
"History will not be kind to him."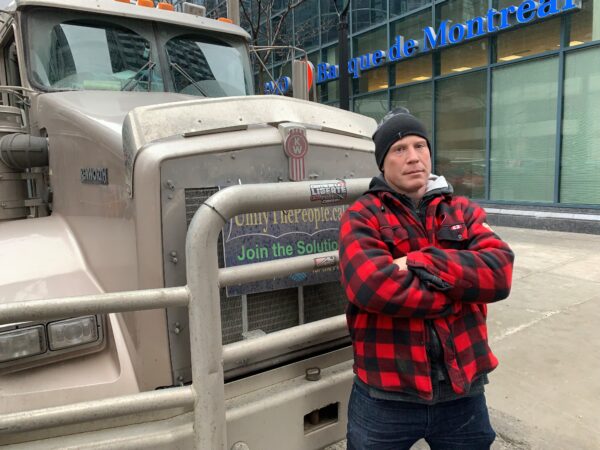 Howard Spencer, 44, from near Vancouver said on Feb. 11 he had been at the protest for two weeks.
"I'm here to stand up for everyone's rights and freedoms.
"I'm not an anti-vaxxer. We have a Bill of Rights and I think that's been lost by the powers that be and we need to get back to that and get back to our freedoms. I think they are eroding."
Dressed in a red-and-black checked lumberjack shirt and leaning up against the bullbars of a friend's truck, Spencer said he was going to stay as long as it took.
He said he was losing money, but that was not of concern. Spencer said it was all about the principle. "I feel this is the right thing to do."
His aim was for politicians to "drop all the mandates and get back to our lives that we are used to."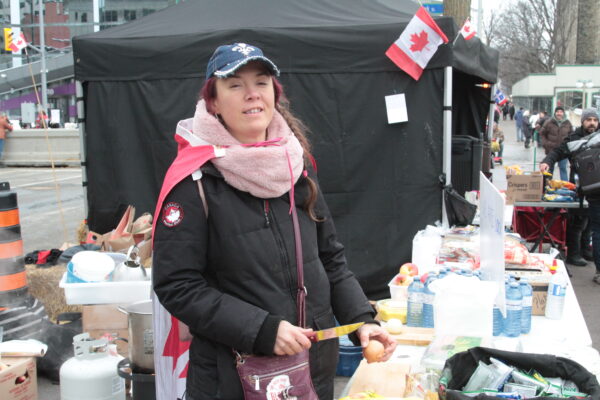 Towards the western section of Wellington St, Marie Eye was at a long table chopping onions so she could make soup.
"I'm cooking for everybody. We are all in this together and we're all Canadians, and we all need to eat, and we all need to breathe, and we all need to live," she said.
Eye is from Quebec and she came along to support the protest.
"I came from the first morning and it kind of evolved; and now I have this nice little soup project.
"I never liked making soup so much. It just brings people together."
She said it "was just like a magic potion."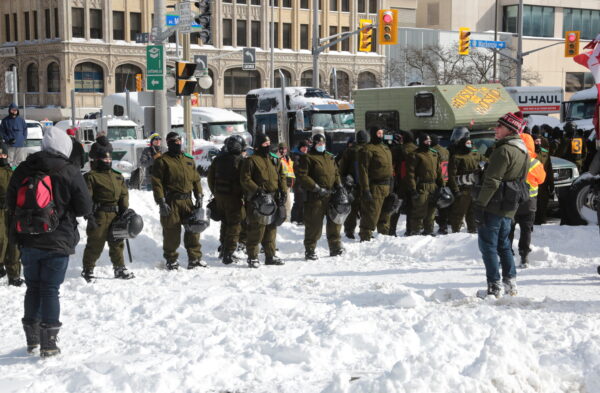 On Feb. 14, Canada's public safety minister Marco Mendicino linked the alleged seizure of weapons in Alberta by Royal Canadian Mounted Police officers to the Freedom Convoy.
But a street captain representing a number of truckers on Wellington St. rejected the minister's claims outright.
David Paisley said, "that sounds like fearmongering and that the government is getting really desperate to discredit us."
"We've been very peaceful and are cooperating with the city," Paisley said.
"The government is starting to play dirty."
He said that nobody in the protesting groups wanted violence and added, "if I knew of it I would be shouting it from the rooftops. We'd be the first to deal with it."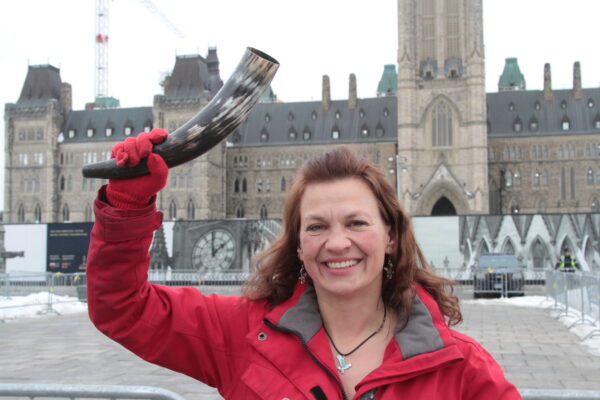 Among the protest community of truckers and their supporters that took over the downtown area of Ottawa, organizers were known as freedom leaders.
One such freedom leader was Benita Pedersen—a seemingly always smiling, cheery woman who saw using her organizational skills as her calling.
Pedersen of Westlock, Alberta, told The Epoch Times that she became invovled with the Freedom Movement in February 2021.
"I said to our Lord 'your will not mine.' And I surrendered.
"What happened then basically something came over me telling me I had to do everything I can to help the Freedom Movement."
Pedersen said she used every skill "I have ever developed—as a DJ, karaoke hostess, workshop facilitator and presenter—to organize rallies."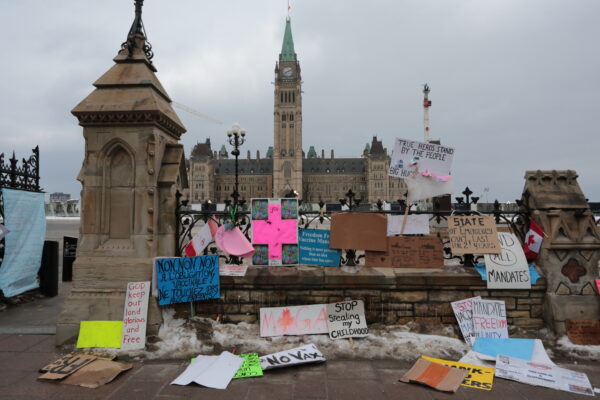 "There are a number of goals. And some of those goals have already been reached. One of them is the uniting of the people and that has already happened.
"We have people from coast to coast—we have Americans, people from Mexico supporting what is happening here.
"It's happening all over the world, Australia, Great Britain."
Pedersen said that ending the mandates was not enough.
"We actually have to go beyond that and there has to be some sort of transformation in governance, not just in Canada but in other areas as well.
"And that transformation needs to happen in such a way we truly have governance for the people, by the people, and not what we have now.
"Because what we have right now is some form of dictatorship because our elected representatives are not listening to the people."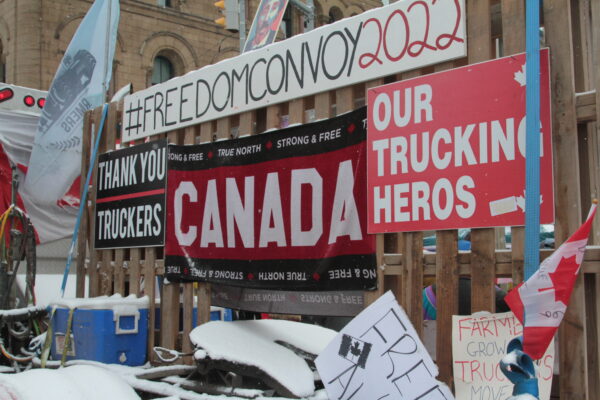 Pedersen led "Jericho Walks" around the city's parliamentary precinct for seven days to knock down the walls around the minds of politicians. At the end of each circuit, many followers blew horns.
"The horns are the sound of hope and represent freedom," Pedersen said, "and your own strength. It is a way of making your voice heard."