Thousands of Hungarians Rally Against Chinese University's Planned Campus in Budapest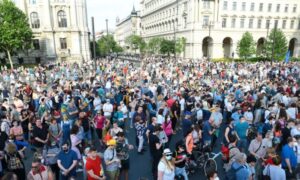 Thousands of Hungarians gathered in front of the parliament building in Budapest against a Chinese university's plans to open a campus in Hungary's capital. Critics expressed their concerns about restrictions to academic freedom and Beijing's political influence in the east European country.
On June 5, a sea of protesters were seen marching toward the Hungarian parliament building, holding signs like "CHINA STOP," "TREASON," "NO FUDAN," "SUPPORT HUNGARIAN EDUCATION."
In April, a strategic deal was signed between the Hungarian government and Shanghai-based Fudan University—one of China's top universities. According to the agreement, the university would create a campus in Budapest by 2024, and the Hungarians would make a huge investment in the project. Previously, the government had planned to build a dormitory village for Hungarian students in the city.
The proposed campus will be the university's only foreign branch and also China's first among the EU's 27 member states.
Critics accuse the Fidesz (Federation of Young Democrats–Hungarian Civic Alliance) party of Hungarian Prime Minister Orbán Viktor of pleasing Beijing, worrying that the Chinese campus will undercut the quality of the country's higher education and help promote Beijing's influence in the former communist country—and in the EU.
On June 5, Gergely Karácsony, Mayor of Budapest, called the Fudan project the Fidesz party's "final and complete moral suicide."
The mayor also tweeted on June 2 that he welcomes "foreign universities that are not linked to oppressive state ideologies, are transparent" and are not disadvantageous for Hungarian taxpayers.
Twitter footage released by Radio Free Europe/Radio Liberty showed at least three street signs in the vicinity of the planned campus location renamed Dalai-Láma Út (Dalai Lama Road), Szabad Hongkong Út (Freedom Hongkong Road), and Ujgur Mártírok Út (Uyghur Martyrs' Road)—the protesters' reminders of the Chinese regime's human rights record in Tibet, Hong Kong, and Xinjiang.
On June 5, a netizen with the username dora1234view commented, "What happened in Hungary show[s] totalitarianism is spreading and it is well supported. It shows [the] EU is at risk.
"It is time [for] action," she warned. "Without consequence, totalitarianism will control EU."
In mainland China, the communist authorities keep a close watch on domestic universities and colleges. Surveillance cameras are found in every classroom. Dissenting voices from teachers or students are likely to be reported to administrators or police by peers if deemed as serious "anti-China" or "anti-party" remarks.
It is Chinese law that every university or college, public or private, must pledge allegiance to the CCP. Top school positions are almost always occupied by clear-cut communists.
Historically, Fudan University was one of China's most prestigious institutions for higher learning. However, the Chinese Communist Party (CCP) began to bring the school and many others under its direct control since it came to power by force in 1949, and pushed its communist ideologies.
In 1952, then-Chinese leader Mao Zedong appointed Chen Wangdao, the first Chinese translator of the full text of "The Communist Manifesto" to be Fudan University's president.
"The Communist Manifesto," written by Karl Marx and Friedrich Engels in 1848, is idolized as the first programmatic document by communists.
The CCP's ideological control over Fudan university has been so extensive that a School of Marxism was created in 2014, with the aim to cultivate young talent for the ruling party.
In 2019, Fudan University drew attention for its controversial revised university constitution. Notably, "freedom of thought" was deleted in the latest edition, while "adhering to the CCP's leadership" was added to and highlighted in the update. In addition, the concept of "academic independence" was made much less prominent in the document.
Xu Zhenqi contributed to this report.