'Thousands' of ISIS Terrorists Released in Afghanistan as US Expects 'Future' Attacks: Pentagon
Several thousand ISIS-K terrorist members escaped Afghan prisons when the country's government fell and the Taliban took over earlier this month, said Pentagon spokesman John Kirby on Friday.
"Clearly it's in the thousands," Kirby said in response to a question about the number of ISIS terrorists who escaped in recent days. The Taliban, he said, emptied the prison at Bagram airbase—located outside Kabul—which had ISIS members.
The United States, he added, believes there are "specific, credible threats" against Kabul airport. "We would expect future attempts" against the facility, Kirby said.
The terrorist group, which has its origins in Syria and Iraq and has operated in Afghanistan since at least 2015, claimed responsibility for the attack on the Kabul airport that left dozens of people, including 13 U.S. soldiers, dead on Thursday. ISIS-K is also known as Islamic State Khorasan, an antiquated term to describe the region that encompasses Afghanistan, Pakistan, and other Central Asian nations.
Reports have said that ISIS-K is primarily comprised of disgruntled former Taliban members. The two terrorist groups have fought each other during sporadic bursts of fighting over the past several years.
In 2017, former President Donald Trump ordered a U.S. military airstrike that dropped the largest conventional bomb in the U.S. arsenal, known as the "mother of all bombs," or MOAB, on caves that were being used by ISIS-K in Afghanistan.
ISIS-K in 2020 attacked an Afghan prison that left at least 29 people dead and freed a number of its members. A suicide bomber drove a vehicle filled with explosives into the prison's main gate before other ISIS terrorists moved through the gap, firing on the prison guards.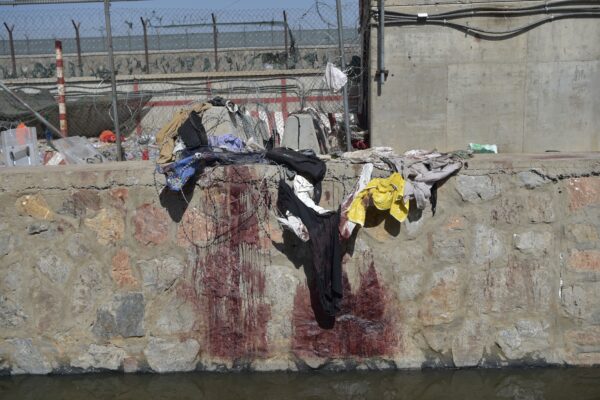 Several days ago, ISIS released a statement through its weekly Al-Naba publication and accused the Taliban of collaborating with the U.S. and Western forces. ISIS previously has accused the Taliban of being apostates and not following Sharia law closely enough.
Following Thursday's attack, President Joe Biden and other White House officials said that the United States would retaliate against the terror group.
"Know this," Biden said to the attackers during White House remarks. "We will not forgive. We will not forget. We will hunt you down and make you pay."
Without elaborating, "We will respond with force and precision, at our time, at the place we choose, and at the moment of our choosing," Biden added. The U.S.-led evacuation of Kabul will continue, he added.
The president said, "There is no evidence thus far that I've been given by our commanders in the field that there has been collusion between the Taliban and ISIS in carrying out what happened today."
However, on Friday morning, Kirby said that U.S. officials are not sure whether the Taliban was involved in the terrorist attack or not.
Biden has faced a torrent of criticism from members of both major political parties for how his administration has handled the withdrawal of Afghanistan and the subsequent collapse of the Afghan government and army. The White House has also taken flack for contradictory statements made by various officials, including Biden, in recent days.
During Thursday's press conference, Biden took some responsibility for the security lapse that allowed the terrorist attack, although he again pinned some of the blame on the deal that former President Donald Trump made with the Taliban, although Biden went back on key provisions in the Trump deal.