Thousands of Nurses Strike in Australian State Over Staffing, Pay
Thousands of nurses in the Australian state of New South Wales (NSW) have taken the streets of Sydney's CBD to urge the state government to accept their demands for a pay rise, improved maternity staffing, and mandated nurse-to-patient ratios.
The 24-hour state-wide strike began at 7 a.m. on March 31 for most nurses and midwives taking part, while life-preserving services will be maintained in all public hospitals and health services.
The nurses gathered outside the Supreme Court holding signs that read: "Stop exploiting my empathy," "Healthcare is not a business," and "We deserve more than 'thanks.'"
The main rally at Macquarie Street saw members of the NSW Nurses and Midwives' Association (NSWNMA) from 170 hospitals marching to state parliament.
Meanwhile, 20 smaller rallies were held in regional locations, including Wollongong, Newcastle, Orange, Port Macquarie, Gouburn, Wagga Wagga, Dubbo, and other areas.
NSW Health has obtained an order from the NSW Industrial Relations Commission last week to prohibit the strike, but the union has defied the decision.
It is the second protest held by the union in seven weeks for better pay and staff conditions.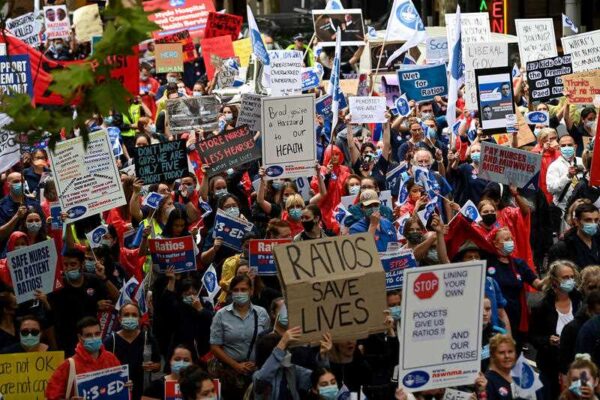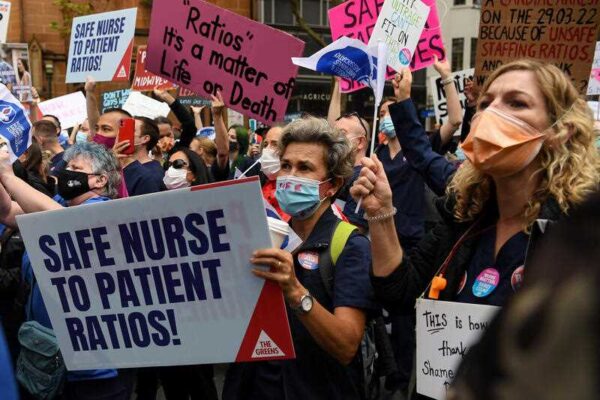 In a statement to The Epoch Times, NSWNMA General Secretary Brett Holmes said their health staff members are "increasingly frustrated" at the government's unwillingness to address the "serious issues" of patient care.
"Despite their pleas for more support from the government, nurses and midwives are extremely fatigued from working double shifts and increased amounts of overtime, because of the growing gaps in staffing rosters," he said.
"What nurses and midwives are asking for is not unreasonable."
The union demands a nurse-to-patient ratio of one-to-four on hospital wards and a midwife-to-patient ratio of one-to-three, as well as a 4.75 percent pay rise versus the 2.5 percent a year allowed by the state government.
The NSWNMA has received no offer from the government since meeting with NSW Premier Dominic Perrottet on Feb. 21, six days after the union's previous strike, Holmes added.
On March 16, NSWNMA Assistant General Secretary Shaye Candish stated that the ongoing Omicron strain inside emergency departments has added to the moral and excessive workloads nurses have to take on.
"The pressure on ambulance services and emergency departments has continued to build during the pandemic and it's taking a toll on health staff. Again and again nurses, midwives and other hospital staff are expected to absorb these increased workloads," Candish said in a statement.
"It's unsafe for patients and it's unsafe for staff. The NSW government is stubbornly relying on a staffing model that can be manipulated and doesn't reflect the volume of work required to care for patients safely.