Three Top New Zealand Health Officials Announce Resignation
Three top New Zealand health officials will be stepping down from their posts, including Director-General of Health Dr Ashley Bloomfield.
On Wednesday, Bloomfield announced his intention to retire from the role at the end of July, almost one year earlier than the official end of his contracted term, June 11, 2023.
Public Service Commissioner Peter Hughes said Bloomfield had played a vital role in New Zealand's response to COVID-19 and had indicated that he believed July was a good time to step away and have an "extended break."
"Dr Bloomfield has worked tirelessly for more than two years to keep New Zealanders safe from coronavirus," Hughes said. "I thank Dr Bloomfield for his commitment to public service, his spirit of service to the community and his exceptional contribution to New Zealand's COVID-19 response."
COVID-19 Response Minister Chris Hipkins thanked Bloomfield for his work in advising the government "every step" of the way.
"His workload has been enormous but it hasn't just been related to COVID-19 and in fact his entire life has been dedicated to the health and wellbeing of New Zealanders," he told reporters on Wednesday.
Hipkins said he "absolutely" respected Bloomfield's decision to take a break and that he "thoroughly" deserved it.
Bloomfield said he had considering stepping down for a while and had been waiting for a suitable time, but now had "mixed feelings" about actually leaving.
"It seems we're at a good point in terms of the pandemic, the response is shifting, I'm also confident that the system is in good hands with the changes that are afoot, and most certainly my family will be very pleased to have a little more of my time," he said.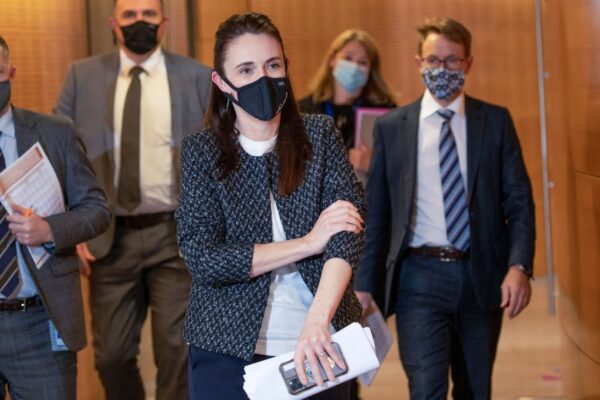 Prime Minister Jacinda Ardern said Bloomfield has been a "true public servant" during his time in office.
"When we spoke about his decision to move on, he mentioned that he wanted to spend time with his family, and that's the least we owe him. So kia ora (good health wishes) from across the Motu, Dr Bloomfield. We thank you," Ardern said in a post on Instagram.
The Ministry of Health also confirmed that two more top health officials will also be resigning this week, the Director of Public Health Caroline McElnay and Deputy-Director of Public Health Niki Stefanogiannis.
McElnay's last day of service will be on Thursday while Stefanogiannis's last day will be Friday.
The ministry said it recognised the "outstanding service" of both McElnay and Stefanogiannis, particularly over the past two years.
"The ministry is in the process of recruiting for a new Director of Public Health but in the interim welcomes Dr Jim Miller from Toi te Ora Public Health, Bay of Plenty DHB from April 11 as Acting Director of Public Health," Deputy-Director General of Population Health Deborah Woodley said.
Meanwhile, New Zealand has ended most COVID-19 restrictions from April 5, including vaccine passports, QR codes, and mask rules.
However, Hipkins said it was not yet time to move from Red to Orange in its COVID traffic light framework.
"Hospitalisations have dropped in Auckland, but continue to plateau in regions like Canterbury, Waikato, and Northland," he said in a statement. "As a result, the public health advice is that it is not yet the time to ease the existing restrictions and drop down to Orange. Ministers will review these settings again next week."
Vaccination mandates remain for health and care workers, prison staff, and the border force. It has been lifted for all other sectors.
New Zealand's vaccination rate for people aged 12 and over stands at 94 percent and 73 percent of people eligible for a third booster shot have received it.