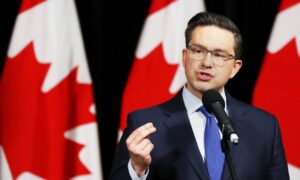 Conservative Leader Pierre Poilievre says his party will force a House of Commons vote to have the prime minister's top advisor, Katie Telford, testify before the ethics committee about her knowledge regarding election interference.
All opposition party members on the Commons Standing Committee on Procedure and House Affairs (PROC) already support a motion to order Telford to testify, but Liberal members on the committee have twice delayed a vote on the matter by speaking in turn for hours during meetings.
A vote to order Telford before a different committee will circumvent the "the Liberal filibuster" on the matter, Poilievre said on Twitter March 16.
"Will the NDP, which will have the deciding vote, help Trudeau cover up the truth again?" he asked.
PROC began its probe on foreign election interference following media reports citing secret intelligence documents and sources detailing Beijing's attempts to influence outcomes of the 2019 and 2021 federal elections.
All Conservative, Bloc Québécois, and NDP members of the committee support a motion to have Telford testify on Beijing's interference attempts as she could shine light on what the Liberal government knew of the interference and timeframes surrounding any intelligence briefings on the matter.
However, Liberal members of PROC have argued that Telford should not have to testify out of respect for the principle of ministerial accountability, which in general protects politicians' staff from being ordered to appear before committees.
"There's been a long tradition in Canada that political staffers—they're not like me and my 337 colleagues that are prepared to defend ourselves and defend what we do," said Liberal MP and PROC member Greg Fergus while speaking to reporters in Ottawa on March 2 prior to the committee beginning its foreign interference probe.
"It should be extraordinarily exceptional that they [political staff] appear before committee, if at all," added Fergus, who is also parliamentary secretary to the prime minister.
Conservative MP Michael Cooper said during a previous PROC meeting that the Liberal government's hesitancy to have Telford testify before committee seems to indicate that the prime minister may have something "to hide."
"It is crucial for confidence in our democracy that we know what Justin Trudeau and his government knew and when," Cooper said in a Feb. 26 statement.
Noé Chartier contributed to this report.