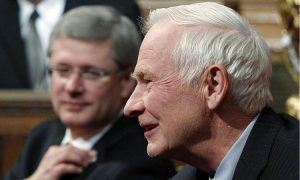 Former governor general David Johnston will serve as the Liberal government's "independent special rapporteur" on foreign interference, Prime Minister Justin Trudeau announced on March 15.
"As Independent Special Rapporteur, David Johnston brings integrity and a wealth of experience and skills, and I am confident that he will conduct an impartial review to ensure all necessary steps are being taken to keep our democracy safe and uphold and strengthen confidence in it," Trudeau said in a statement issued by his office.
Johnston's mandate will be to evaluate the impact of foreign interference in the last two federal elections.
The government says it will follow his recommendations, which could include calling for a public inquiry or a judicial review.
The statement said the choice was made following consultations will all the opposition parties.
Opposition parties have not been favourable to the Liberals' decision to appoint a rapporteur instead of holding a public inquiry.
More to come.