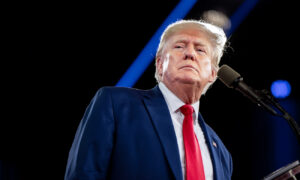 Former President Donald Trump emphasized the importance of pharmaceutical companies being transparent about vaccine side effects and disclosing all relevant data on vaccine harms. He discussed various issues, including corruption allegations against President Joe Biden and claims of weaponization of federal agencies against him, during an episode of the Tudor Dixon Podcast.
President Trump stated that President Biden is the most corrupt and incompetent president in history and that the criminal charges against him are attempts to interfere in the 2024 election.
In response to a question about President Biden's funding of a new COVID-19 vaccine, President Trump expressed caution and reiterated the need for pharmaceutical companies to release data on vaccine side effects. He emphasized that this information should be made public immediately so that people can understand the research and its findings.
Ms. Dixon mentioned that pharmaceutical companies are shielded from liability for vaccine injuries until December 2024 under the Public Readiness and Emergency Preparedness Act. She asked if President Trump would urge these companies to be honest about any vaccine-related issues once the liability protection expires. President Trump responded by saying that the companies have an obligation to be honest, and withholding information about vaccine harms would be wrong.
Meanwhile, a federal judge has ordered the Food and Drug Administration (FDA) to speed up the release of COVID-19 vaccine trial data, requiring the FDA to make all documents public by mid-2025. This decision aims to ensure timely and full disclosure of information to the public.
Confidence in the FDA's COVID-19 vaccine approvals has been shaken by revelations of expedited approval for Pfizer's vaccine to facilitate mandates. Despite the risk of side effects, the Centers for Disease Control and Prevention (CDC) continues to recommend COVID-19 vaccination for people of all ages.