Two British Fighters Captured in Ukraine Paraded on Russian State TV
Two British fighters captured in the Ukrainian city of Mariupol have appeared on Russian state TV and asked Prime Minister Boris Johnson to help bring them home.
In footage broadcast on the Rossiya 24 state TV channel, Shaun Pinner and Aiden Aslin, who were captured while defending Mariupol against Russian attacks, asked to be exchanged for Viktor Medvedchuk, a pro-Russian oligarch who was arrested by the Ukrainian authorities on April 12.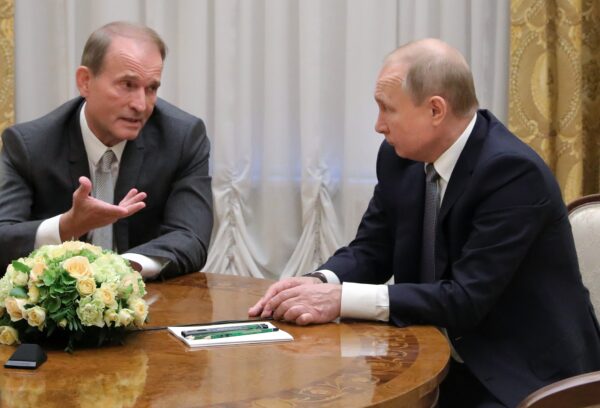 Pinner, a 48-year-old former British Army soldier, said in the video: "I understand that Mr. Medvedchuk has been detained and we look to exchange myself and Aiden Aslin for Mr. Medvedchuk."
He said to Johnson: "Obviously I'd really appreciate your help in this matter and pushing this agenda."
In a separate clip, Aslin, 28, is seen saying: "If Boris Johnson really does care like he says he does about British citizens then he would help pressure (Ukrainian President Volodymyr) Zelensky to do the right thing and return Viktor to his family and return us to our families."
In a statement released by the UK Foreign Office, Pinner's family explained how he became involved in the defence of Ukraine.
They said: "Shaun was a well-respected soldier within the British Army serving in the Royal Anglian Regiment for many years. He served in many tours including Northern Ireland and with the United Nations in Bosnia.
"In 2018 Shaun decided to relocate to Ukraine to use his previous experience and training within the Ukraine military.
"Shaun enjoyed the Ukrainian way of life and considered Ukraine as his adopted country over the last four years. During this time, he met his Ukrainian wife, who is very focused on the humanitarian needs of the country.
"He progressed into the Ukrainian Marines as a proud member of his unit."
The family rejected Russian media's characterisation of foreign fighters in the Ukrainian military as "mercenaries," stressing that Pinner was "officially serving with the Ukrainian Army in accordance with Ukrainian legislation."
They said they are "working with the Foreign Office along with the family of Aiden Aslin" to ensure "their rights as prisoners of war are upheld according to the Geneva Convention."
Aslin, originally from Nottinghamshire, had been defending Mariupol with his unit during heavy fighting in recent weeks before having to surrender after 48 days.
The Telegraph reported that Aslin enlisted in the Ukrainian army in 2018 and that he had previously fought with Kurdish forces against the ISIS terrorist group in Syria.
PA Media contributed to this report.