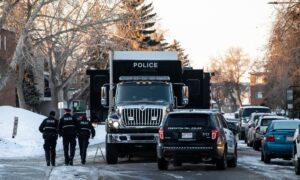 EDMONTON—Two Edmonton police officers were shot and killed while responding to a call early on March 16.
According to a social media post by Staff Sergeant Michael Elliott, former president of the Edmonton Police Association, the incident happened near the neighbourhood of Inglewood in northwest Edmonton.
"No words can describe what our members & their families are feeling at this moment. Our entire service & community are mourning & I'm devastated," Elliott said.
Police have closed access to the area of the incident and set up command posts in the area.
Police Chief Dale McFee and other authorities will be making statements on the tragedy later today.
Condolences from police agencies and other officials poured in from across the country.
Jon Reid, president of the Toronto Police Association, said it was devastating to hear the "tragic news."
"There are no words to describe how our members & their families are feeling today," he said.
The Calgary Police Service also offered its condolences.
"With immense sadness and heavy hearts we mourn the tragic loss of two @edmontonpolice officers killed in the line of duty. We share in the profound grief and loss of the fallen officers. They made the ultimate sacrifice in serving their communities. On behalf of the CPS, we send our deepest condolences to their families, friends and colleagues," the police force said.
Prime Minister Justin Trudeau also issued a statement on the tragedy.
"Every day, police officers put themselves in harm's way to keep people safe. The news that two Edmonton Police officers have been killed in the line of duty reminds us of that reality. I'm sending my condolences to the officers' loved ones and colleagues – we're here for you," he said.
Before the latest incident, Constable Daniel Woodall was the last Edmonton police officer killed while on duty, on June 8, 2015. He was attempting to make an arrest of a suspect on charges of criminal harassment. A second officer was injured in that shooting.
The Canadian Press contributed to this report.