Two Killed, 8 Seriously Wounded in Tel Aviv Shooting
Two people have been killed and more than 10 injured in a shooting by a Palestinian in the Israeli city of Tel Aviv on April 7, according to local reports.
The shootings took place on Dizengoff Street, a typically crowded area full of multiple bars and restaurants, when the attacker approached a popular bar called Ilka and opened fire.
The victims have been identified as 28-year-old and 27-year-old males but their names have not yet been released.
According to The Jerusalem Post, the 28-year-old victim is Tomer Morad, an employee of Ilka Bar who was originally from Kfar Saba.
Tel Aviv's Ichilov Medical Center said that it's continuing to treat eight people who were wounded in the attack, including a man who remains in critical condition with "immediate danger to his life," according to The Times Of Israel.
Three others who were in critical condition on Thursday night are no longer in danger and are being treated in ICUs, while four more individuals have light to moderate injuries.
Video footage on social media showed the outside area of one bar on Dizengoff Street covered with broken debris as people and an ambulance crew urgently worked to move a wounded individual onto a stretcher.
Officials have identified the attacker as Ra'ad Hazem, 28, from the Jenin area in the West Bank. Israel's internal security service, Shin Bet, said he did not have a permit to be in Israel and entered illegally.
They said the attacker also had "no clear organizational affiliation, no security background and no previous arrests" and are continuing to investigate the incident.
Hazem was killed in a gunfight with Israeli forces following a huge manhunt that lasted several hours conducted by hundreds of officers, some with dogs, and army special forces. Officials had also called on the public to help track down the attacker.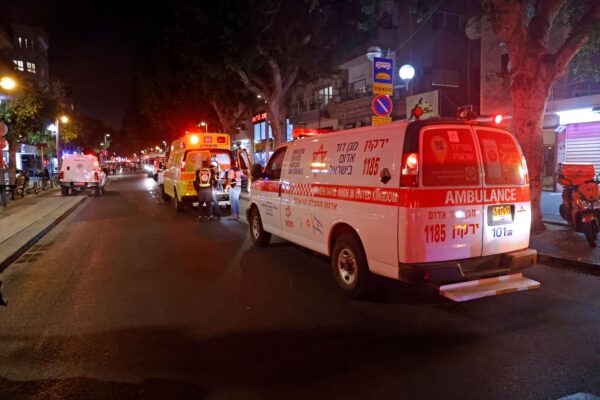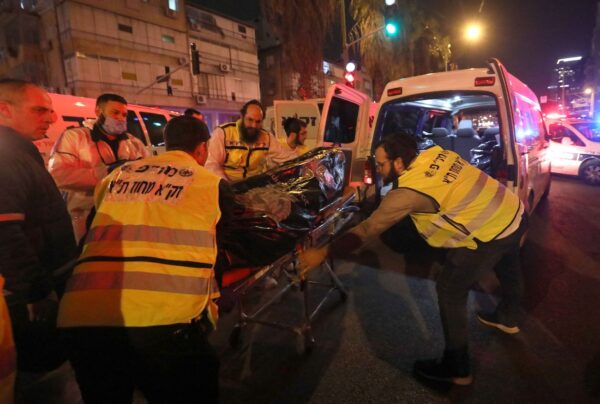 Israeli Police chief Kobi Shabtai announced on Friday morning in Israel that the attacker had been killed during an exchange of gunfire with officers.
"After a long, difficult night of activity by the police, Shin Bet and IDF, we succeeded this morning—with operational and intelligence cooperation—to close the circle and killed the terrorist in an exchange of fire," said Shabtai.
"We emphasized last night that no matter how long it took we would find the terrorist, dead or alive," Shabtai continued. "And when we found him this morning it required a quick reaction from the Yamam and Shabak forces in Jaffa."
"We operated along two main paths, operational and intelligence, and this morning both led to the end of this rolling operation."
Shabtai said that officers are still on high alert for potential further attacks in Tel Aviv and other regions of Israel.
"We will react with a large deployment and force to any unusual instances as we did in Tel Aviv and we will hunt anyone who harms or tries to harm the citizens of Israel," he said.
Images on social media appeared to show Jenin residents marching following the attack in Israel and chanting: "Death and not humiliation," according to the Kan public broadcaster.
In a statement issued on Thursday night, Prime Minister Naftali Bennett offered his condolences to the families of those killed and said that Israeli security services "are in pursuit of the terrorist who carried out the murderous rampage tonight in Tel Aviv."
On Friday, Bennett congratulated security forces for successfully finding the "fugitive terrorist" and "eliminating him."
"We maintain maximum alertness, within Tel Aviv and throughout the country, for fear of further incidents or imitation attacks. The entire nation of Israel mourns the grief of the families of those killed, and prays for the health of the wounded. Our war on murderous terrorism is long and hard. we will win," Bennett said on Twitter.
While motives for Thursday's attack are not immediately clear, it comes amid heightened tensions between Israel and Palestine.
At the end of last month, five people were killed in Tel Aviv when a Palestinian opened fire at passersby in Bnei Brak, a Jewish ultra-Orthodox city east of Tel Aviv, before he was killed by a police officer.
Days prior to that saw an attack involving an incident in which two men killed two 19-year-old police officers in Haldera. Days before that, a person killed four people in a car-ramming and stabbing attack in Beersheba.