UK Christmas Shoppers Urged Not to Panic as Ships Diverted Due to Port Congestion
Cabinet minister Oliver Dowden said on Wednesday that he's confident Britons will be able to get Christmas gifts, while some logistic industry leaders suggested it may be wise to buy early.
It comes after container ships were turned away from Felixstowe—a port that handles 36 percent of the UK's container ship traffic—due to congestions.
Danish shipping giant Maersk told The Financial Times on Tuesday that the company had to divert bigger ships from the port of Felixstowe and to European ports instead, so it can transfer the containers to smaller ships and then send them to the UK.
Lars Mikael Jensen, head of global ocean network at Maersk, said Felixstowe was among two or three worst-hit terminals in the world as shortages of heavy goods vehicle (HGV) drivers in the UK meant it takes longer to move cargo out of the ports.
Speaking to Sky News, Dowden said the container backlog is "clearly a challenging problem," but the government was "working through these challenges."
Asked about potential Christmas shortages, Dowden suggested people stick to their normal shopping schedule.
"The situation is improving, I'm confident that people will be able to get their toys for Christmas," he said. "Some … buy very early for Christmas, my wife is quite an early Christmas buyer, others buy later. I would say just buy as you do normally."
Tim Morris, chief executive of the UK Major Ports Group, also said there is "no need to panic" about Christmas over short-term fluctuations because the global supply chains, though "very busy," are also "pretty robust."
"We managed it successfully last Christmas and we're confident that it will happen again this Christmas, and that's what I've told my kids."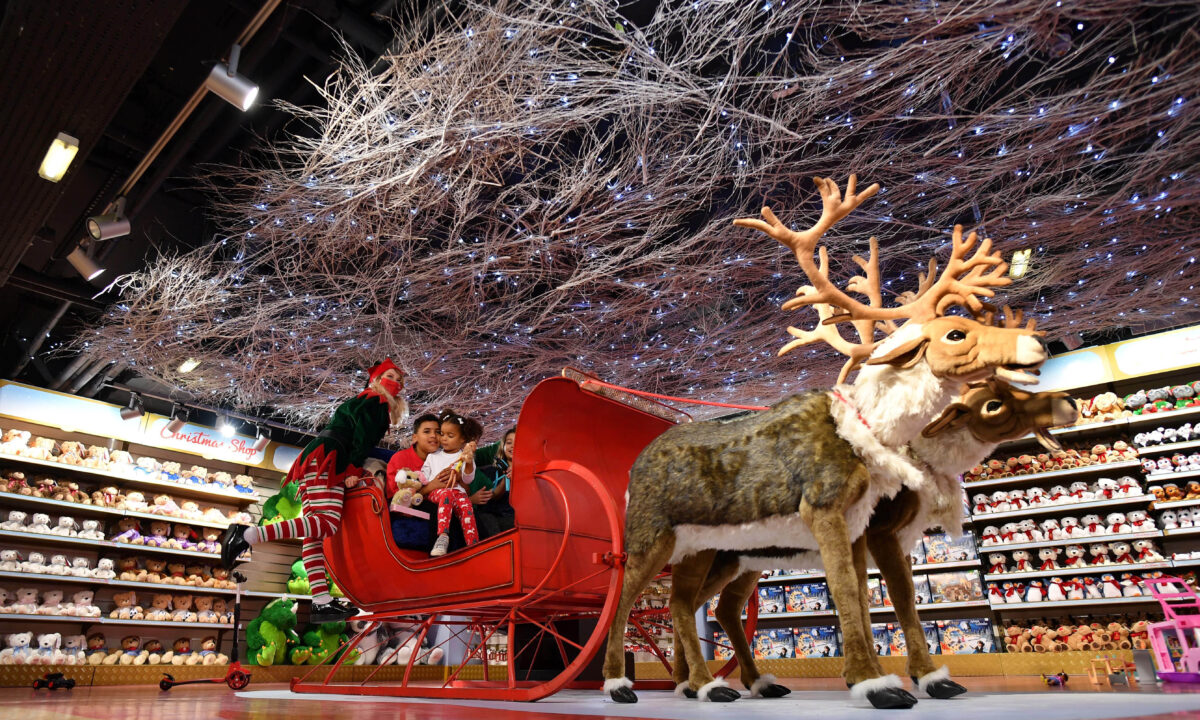 However, Doug Bannister, chief executive of the Port of Dover, felt it may help to prepare early.
Asked about the suggestion that there will be empty shelves at Christmas and asked how "Grinchy" he feels, Bannister told Times Radio that he didn't "feel particularly Grinchy."
"But at the same time, you know, listen, Felixstowe, London Gateway, Southampton, these big container ports, for the goods coming on the long supply routes, on these big ships from Asia and India and the Middle East, these are providing a lot of the goods that people want to have around Christmas time," he said.
Bannister said he expects European goods to be on the shelves for Christmas, he also does "wonder about" if his wife needs to "pre-buy some early Christmas presents for the kids."
Bannister assured people that there is "no congestion" at Dover, adding that people can count on the route to the Kent port functioning as the ferries always keep moving.
Peter Wilson, managing director at Cory Brothers shipping agency, said that while problems affecting shipping and transport are a global issue, the UK has a "significant pinch point around HGV drivers and the demand on them to move goods from the ports."
"That's a really significant issue for us here in the UK," he told BBC Radio 4's "Today" Programme.
Asked if it will affect Christmas, he said it has the "potential" but stressed that the supply chain "will not fail in the UK," adding that consumers should "be sensible, think ahead, plan appropriately, and order your Christmas goods and the items that you need in a timely fashion to ensure that you have them."
Wilson said there is a potential that some items may not be available nearer to Christmas, and when asked what items are most at risk of that, he said it's a "real mixed bag of all items," but toys could be "where we're going to get pinch points."
Toy shops are urging consumers to"buy now" to avoid Christmas disappointment.
Robert Gliddon, owner of Gliddons Toy Shop in Sidmouth, Devon, said apart from potential shortage, customers will also have to "face the reality of price rises, anything from 10 percent to 15 percent on anything from across the seas."
A spokesman for the British Toy & Hobby Association said toy manufacturers are "working around the clock," but it would be "prudent" to buy early.
PA contributed to this report.