UK 'Doing Everything Possible' to Speed up Visas for Ukrainian Refugees: Home Secretary
The UK is "doing everything possible" to speed up efforts to grant visas to Ukrainian refugees, Home Secretary Priti Patel has said.
According to the Home Office, as of 10 a.m. on Sunday, 5,535 online applications had been submitted and 2,368 people had booked a visa appointment, but only "around 50" visas had been given the green light under the Ukraine Family Scheme.
Asked on Sunday if it was acceptable that around 1 percent of submitted applications had been granted in the first 48 hours of the visa scheme, Patel told reporters, "Let's be clear, this is the first scheme in the world that's up and running in this short period of time."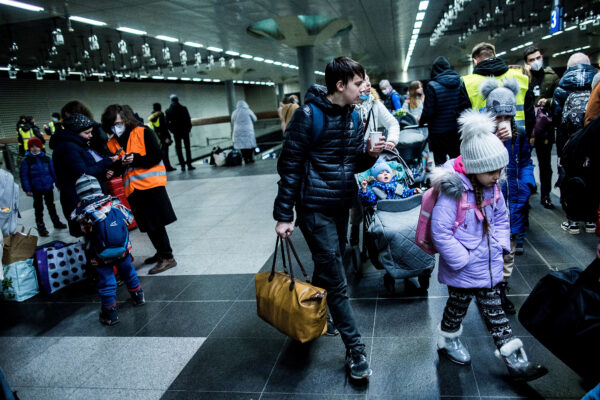 She said the Home Office is "surging staff across all application centres across the entire European Union as well as in the border countries such as Poland."
The home secretary denied accusations from France that refugees had been turned away from the UK at Calais.
French interior minister Gerald Darmanin told Europe 1 radio on Sunday that hundreds of Ukrainian refugees in Calais had been told by British authorities to obtain a visa at UK consulates in Paris or Brussels.
He said it was "a bit inhumane" to expect them to travel all the way there after their long journeys from Ukraine.
But Patel said the British government "is not turning anybody around or turning anybody back at all."
She added: "I have staff in Calais to provide support to Ukrainian families that have left Ukraine to come to the United Kingdom. It is wrong and it is inaccurate to say that we are not providing support on the ground. We are."
Europe minister James Cleverly said on Monday that the Home Office "had to create a system pretty much from scratch" amid "the largest refugee flow" since the Second World War.
But he said the number of Ukrainians being granted UK visas will increase "very, very quickly."
Under the UK's recently-extended visa scheme, Ukrainians with parents, grandparents, children, and siblings already in the UK are allowed to stay for up to three years.
The offer does not match that of EU countries, which have waived visa rules for Ukrainian refugees, letting them in for up to three years without first having to seek asylum.
The U.N. said more than 1.5 million refugees have already left Ukraine since the war started.
PA Media contributed to this report.